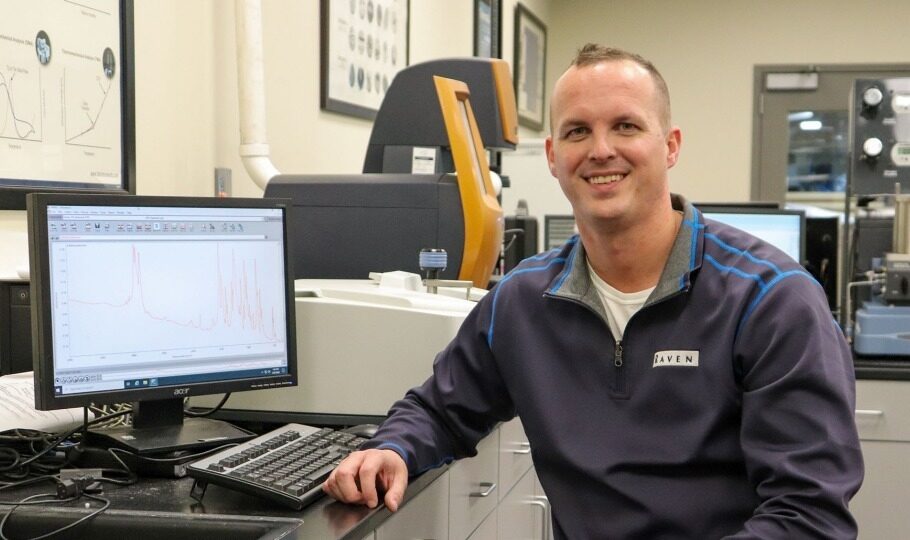 Provide a brief overview of your education and job history.
I grew up in Salem, SD, working on our family dairy farm throughout high school and college. I graduated from South Dakota State University with a B.S. in Manufacturing Engineering Technology and received a commission as an Army Officer through the SDSU ROTC program. After completing six months of Field Artillery Officer School, I deployed with the 1-147th Field Artillery to Kuwait Naval Base in Kuwait, where I served as a Platoon Leader and Executive Officer for 18 months. While deployed, I started graduate school through Black Hills State University, and eventually graduated with a M.S. in Strategic Leadership.
When I returned from overseas, Raven was the first place I wanted to work because of the positive feedback I had heard from classmates at SDSU. I started working as a scheduler at Raven Aerostar. I really enjoyed the team members I worked with on a daily basis, and I had several opportunities to grow in other roles at Aerostar. After six months as a scheduler, I moved to Madison, SD, where I had the opportunity to learn from one of the Raven legends — Jerry Rice — who was the plant manager at the time. He is still a great mentor and friend. After working in Madison for two years as a production and plant manager, I had the opportunity to work on Project Loon (Now Alphabet's Loon) for a year until I moved to Raven Engineered Films, working in the training, production, and quality departments.
Provide a brief overview of your current role and responsibilities at Raven.
I am currently the Quality Manager for Raven Engineered Films, where we focus on delivering high-performance and high-value films for the energy, agriculture, industrial, geo, and environmental markets. The quality team works 24/7, along with the other departments, to ensure our customer requirements are being met. I am lucky to have great teammates, who are dependable and always willing to step up to a new challenge. Some of my daily responsibilities include day-to-day oversight of our quality management system, working with customers on new products, addressing product quality issues, and leading continuous improvement efforts in the business unit.
What's your favorite part about working at Raven?

My favorite parts of working at Raven are the people who work here. Everyone is open to suggestions on improving processes and products. Whether it's internal to the business unit or across businesses, everyone shares ideas and works together.
What makes the Raven Culture unique?
The Raven culture is unique in that everyone interacts with authenticity and integrity. Raven team members don't cut corners or take the easy route, which helps us truly solve great challenges. Being authentic also helps with building relationships with new and current team members and customers.
Choose one Dimension of Competition. How do you see it displayed in your everyday work?
Quality is the Dimension of Competition I see most often in my current role (plus, it's in my job title 😊). So often, when we send out customer surveys and talk to customers in-person, the number one reasons they buy Raven products are the quality of the product and the service they get from our team members. A quality reputation doesn't just happen overnight — it starts with the type of team members Raven hires and the culture it builds within the organization.
How do you solve great challenges in your role?
Feedback is a gift. Whenever a customer gives you feedback around a quality issue, it should be seen as an opportunity to identify a gap in our process and work together to find a solution. As the Quality Manager for Raven Engineered Films, I usually have some ideas of what happened with the product failure. However, when you pull other managers, supervisors, and operators into the discussion, you get the best feedback and come up with the best solution. Asking questions and getting feedback from the people doing the job is the best part of solving a great challenge.
How do you make a difference as a Raven Ambassador?
As a Raven Ambassador, I try to be engaged in activities outside of Raven to bring awareness to middle school and high school students about the possibilities of STEM careers. Over the past couple of years, I've had the opportunity to be at several STEM events in the greater Sioux Falls area. Seeing students get excited about science and technology is fun, especially when it's with a product that we make at Raven.