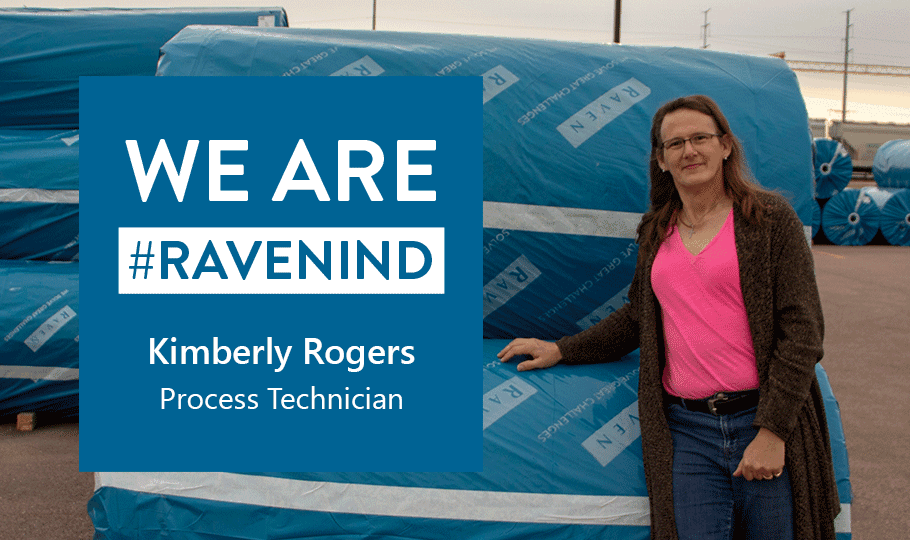 Kimberly Rogers is a Process Technician for Raven Engineered Films. To Kimberly, a Process Technician is many things: a trainer, a maintenance person, a fabricator, a record keeper, and sometimes an operator or supervisor when needed. She helps maintain setup sheets with currents settings, makes minor repairs on equipment, fabricates items that are used on the floor, and ties knots on the laminator.

Kimberly enjoys the autonomy of this role; she has freedom to serve her team wherever needed. Her experience, as well as that of the team, have helped her do so. A few years ago, Kimberly took the opportunity to work closer to home when our Brandon location opened. Today, the Brandon team is set apart by its experience. Kimberly, herself, has been at Raven for over a decade and has over 20 years of industry experience.
Contributing to Impactful Products
Kimberly's favorite part about working at Raven — especially after so many years — is that she directly sees the impact of what she does. While Raven Engineered Films provides a variety of innovative films solutions that preserve and enhance customer investments and protect Earth's natural resources, Kimberly takes pride in seeing the products that she, her team, or her company had a hand in.
I have friends all over the world now. I have a friend who lives in Florida, and during the recent natural disasters, our film that was made here in Brandon was used down there and helped protect her. I can sit here and say, 'I made that, I was involved in that, and our company put that together.'"

Kimberly's Personal Development Journey
Throughout her career at Raven, Kimberly has taken many opportunities to develop personally and professionally. She originally started as a Machine Operator. As the company was growing and looking to standardize training, she was given the opportunity to teach a training class on plastic extrusion, which she dedicated a great deal of time and effort to continuously improve.
Through this experience, Kimberly became passionate about personal development and education — not just for herself, but for others, too. She was promoted to supervisor, which furthered her interest in effective leadership and figuring out what motivates people in the workplace. When she shifted into her current role, her drive to lead by example and make a difference inspired her to pursue the opportunity to become a Raven Ambassador.
Her Role as a Raven Ambassador
Kimberly is now beginning her second year as a Raven Ambassador. She wanted to contribute to the company more — and in a facet outside of manufacturing. Serving on the Raven Ambassadors has been an excellent opportunity for her to learn how to be useful in other areas and to offer her perspective to the team.
The work of the Raven Ambassadors involves dedication to our team members, working to keep them engaged across the company. Kimberly noted that this includes a level of inclusion and acceptance of her, personally. She has felt that she is a welcomed and received part of the Raven community — and that Raven has continued to support her development as a leader and Ambassador.
As an Ambassador, her passion for taking ownership in her work and leading by example has inspired her contribute to the Team Member Engagement and Culture subcommittee. She is committed to helping team members be more engaged in their work, take ownership in their responsibilities, and help them feel more connected to Raven.
I've been trying to study, especially when I was a supervisor, how to get people to want to take ownership in what they do. To me, it's important to take ownership in what you do — there's a sense of pride in it, and it just makes your job better."

What stands out to Kimberly about the Raven culture is the overall dedication to our values and purpose across the company. This includes dedication from our leadership — who make it a point to visit each of our locations to personally connect with team members. The Raven Ambassadors are working to further connect our many satellite locations through informational videos. Kimberly is particularly excited about this, since it provides team members at these locations with the opportunity to take pride in their work, explaining what they do and how their facility contributes to the success of Raven.