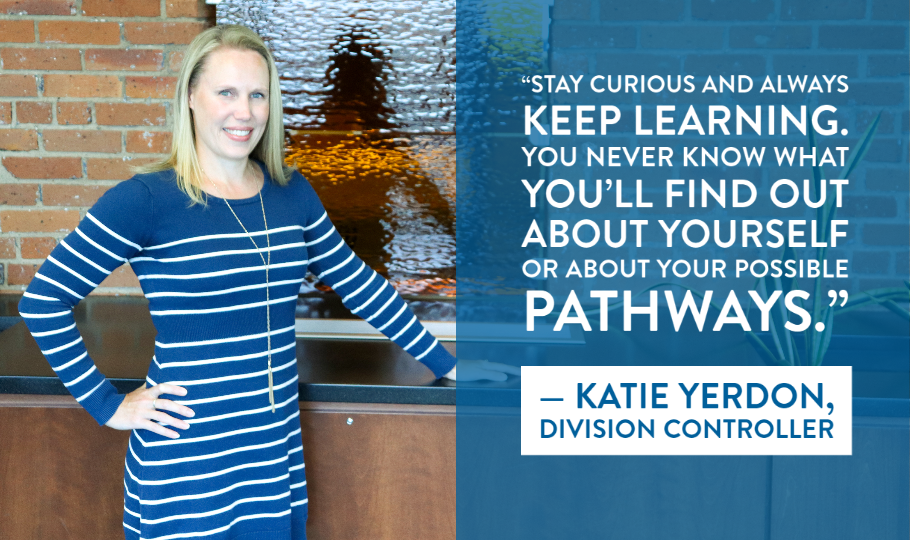 This month's Women of Raven Spotlight is Katie Yerdon, Division Controller for Raven Engineered Films.
Provide a brief overview of your education and job history.
I graduated from the University of South Dakota in 2005 with my Bachelor's of Business Administration – emphasis in Accounting, then graduated again in 2006 with my MBA. From there, I moved to Minneapolis, MN, where I started my career working for Deloitte & Touche as an auditor. In 2009, I left public accounting to work as a Senior Accountant for Old Republic National Title Insurance Company. In 2012, my husband and I made the decision to relocate to Sioux Falls, where I became the Accounting Supervisor for Poet Nutrition.
In December of 2015, I started with Raven Industries as the Accounting Manager for Raven Aerostar, with my very first day of work being on-site in Arlington, VA. As the Accounting Manager, I was responsible for overseeing the day-to-day accounting and reporting functions. In October 2017, I transitioned to the Project Atlas (Enterprise Resource Planning system) implementation team, assisting in the development and processes for phase one implementation. Upon phase one completion, I became Division Controller for Raven Engineered Films.
Provide a brief overview of your current role and responsibilities at Raven.
In my current role as the Division Controller, I lead the Engineered Films accounting team in their daily/monthly processes and reporting. In addition, I work closely with the Director of Finance to analyze the division's performance and provide insight into key drivers of the business.
My role also includes working closely with Raven Engineered Films team members and the accounting group to analyze transactions and processes used in Atlas. Together, we continue to improve Atlas processes and drive efficiencies in order to provide critical decision-making information in a timely manner.
How do you use math and science in your role?
My role requires me to use math frequently as I analyze financial statements and transactions. For example, if I suspect abnormalities in a particular transaction, I will use my technical accounting knowledge along with my basic data points to build an expectation for what I should see in the general ledger balance for the transaction. I can then compare this to what actually posted, determine if any adjustments to the ledger are required, identify what may have caused the issue, and correct any part of the process that may be causing issues.
What inspired you to pursue this career path?
I come from a family of accountants, which is why I initially decided on accounting in college. Once I got into the course work, I found I really enjoyed my classes and the challenges they presented. A lot of the analysis that I do is like puzzle-solving, which is very interesting to me.
What is the most rewarding part of your job?
The most rewarding part of my job is getting to work with people to find solutions to problems. I like learning about the different areas of the business while we identify the root causes of issues and figure out how to improve processes.
What advice do you have for young women who are currently pursuing or considering pursuing a career in a STEM field?
Stay curious and always keep learning. You never know what you'll find out about yourself or about your possible pathways. While you are being curious, be sure to push your boundaries. If you are uncomfortable, it means you're learning new things and growing!