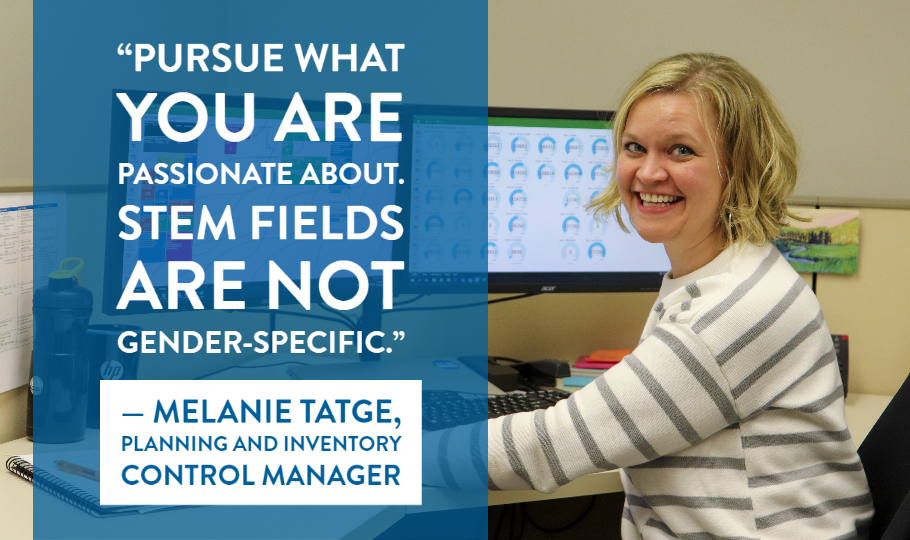 This month's Women of Raven Spotlight is Melanie Tatge, Planning & Inventory Control Manager for Raven Engineered Films.
Provide a brief overview of your education and job history.
I obtained a Bachelor of Arts in Business Management and a Master of Business Administration, both from the University of Sioux Falls. My career started at a local bank where I held various roles throughout my tenure, eventually rising to Assistant Vice President and Store Manager. I joined Raven Engineered Films as Customer Support Manager in October 2007. In early 2017, I took on the role of Planning and Inventory Manager within the Operations Team. In my time at Raven, I have had the opportunity to serve as Executive Director of the Raven Annual Leadership Conference in 2013. I've also helped lead various parts of post-acquisition integrations and was a business leader for Engineered Films' Atlas Enterprise Resource Planning (ERP) software implementation. Most recently, I graduated from the Leadership Immersion Program at Raven.
Provide a brief overview of your current role and responsibilities at Raven.
Currently, I am the Planning and Inventory Control Manager for Raven Engineered Films. As a support team, we partner with nearly all departments to forecast, plan, schedule, and move engineered film materials between our eight physical locations across the U.S. Additionally, we create and analyze stocking levels, study customer buying trends, and maintain a close eye on inventory levels. This is all in the pursuit of operational excellence and meeting customer needs.
How do you use math and science in your role?
I use math each day within my role. I use math to analyze data, look for patterns, determine production run sizes, and set up systems to function optimally. Math and analysis allow for quick decision making and the data gives context to support. I can easily get lost in a spreadsheet — slicing and dicing numbers, every which way possible.
What inspired you to pursue this career path?
Two things inspired me to pursue my current role.
In 2013, Engineered Films implemented a new scheduling tool. I was lucky enough to be involved in solving the challenges that came with it. In this opportunity, I gained an immeasurable amount knowledge from the scheduling and manufacturing teams to help support our external customers. As I my understanding increased, I knew that someday I wanted to be a part of the scheduling team to support continuous improvement and transform Engineered Films planning and inventory functions.
I've always loved math and problem solving. I excelled in both during high school. My current role gives me the opportunity to use math and analytics daily.
What is the most rewarding part of your job?
The most rewarding part of my job is the people. I am blessed to be surrounded by smart, talented team members who love taking on a challenge together to create win-win solutions. That's also what makes it fun!
What advice do you have for young women who are currently pursuing or considering pursuing a career in a STEM field?
Pursue what you are passionate about — STEM fields are not gender-specific. If you have the drive and passion in a STEM related field, go for it — you will be successful. STEM is not all about knowledge, facts, and equations; STEM fields are rooted deeply in communication, problem solving, and teamwork. The opportunities exist, don't let opinions or bias hold you back from following your passion. Step out of your comfort zone, often they are the moments you will grow and learn the most. Work hard to develop your skills, gain confidence and seek out mentors who will encourage and support your growth and development.