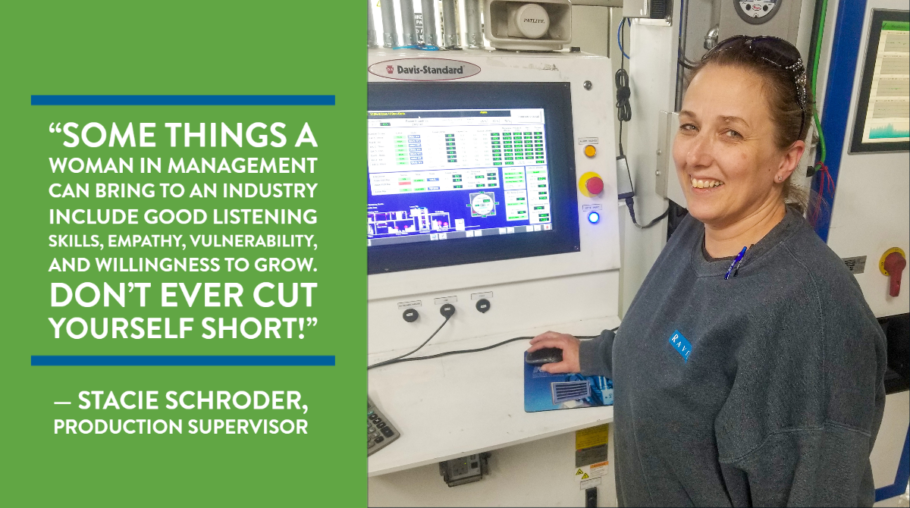 This month's Women of Raven Spotlight is Stacie Schroder, Production Supervisor for Raven Engineered Films.
Provide a brief overview of your education and job history.
I credit most of my development to fifteen years of "real-life" experiences leading people. My two years of schooling at Kilian Community College gave me some textbook learning in general courses, but the best educator has been the daily interactions with my team. It's also important to mention the influence of the strong mentors I have had along the way. I started with Raven in 2011 as a temporary team member and worked my way up by both working hard and being diligent with learning the Raven Way.
Provide a brief overview of your current role and responsibilities at Raven.
Currently, I am a Production Supervisor I, where I have managed up to 13 people. I started out in conversion, where team members are breaking down rolls, tarping rolls, or converting them into customer-specific rolls. In 2018, I was asked to move over to the extrusion department. I accepted the challenge, as it would provide me a broader scope of the Raven business. It is our responsibility to make sure that the materials we are making are meeting our quality specifications — which requires following company policies and procedures, consuming resins, keeping a safe work environment, and always looking for ways for continuous improvement.
How do you use math and science in your role?
The cool and unique part of our process is the science of the resins, how they melt together to create the intriguing films that we produce. Most all products are produced with a resin blend, which makes up the properties of our products. The resins get blended together, melted in the extruders, and pushed through a die. The products have specific testing attributes that must be met for them to be used. Raven has a research and development team that all of our products go through. Math is used in our day-to-day practices, calculating time outs for cut-overs and change-overs, and figuring out how many pounds of a specific resin is used per hour. I am also involved with our variance and financial reports.
What inspired you to pursue this career path?
When I originally came to Raven, I challenged myself to work hard and learn what I could. Due to my experience in management, I set a goal for myself — and within a year of becoming full-time, I achieved my goal. We make a lot of products that help our environment. I have always loved chemistry and the "what and whys" of how things are made and/or work. I was intrigued by what Raven Industries does.
What is the most rewarding part of your job?
The most rewarding part to me is to see the end results and working with the development of team members and helping them to reach their career goals.
What advice do you have for young women who are currently pursuing or considering pursing a career in a STEM field?
I would tell them "the sky's the limit" — work hard for what you believe in; believe in yourself most of all. Some things a woman in management can bring to an industry include good listening skills, empathy, vulnerability, and willingness to grow. Don't ever cut yourself short!
Is there anything else you'd like to add?
Raven Industries offers you the tools to help you succeed. I have completed Dale Carnegie and Supervisor Essentials courses, as well as several of the self-awareness classes offered by Raven. I am also currently involved in our THRIVE business leadership program.