Meet Aaron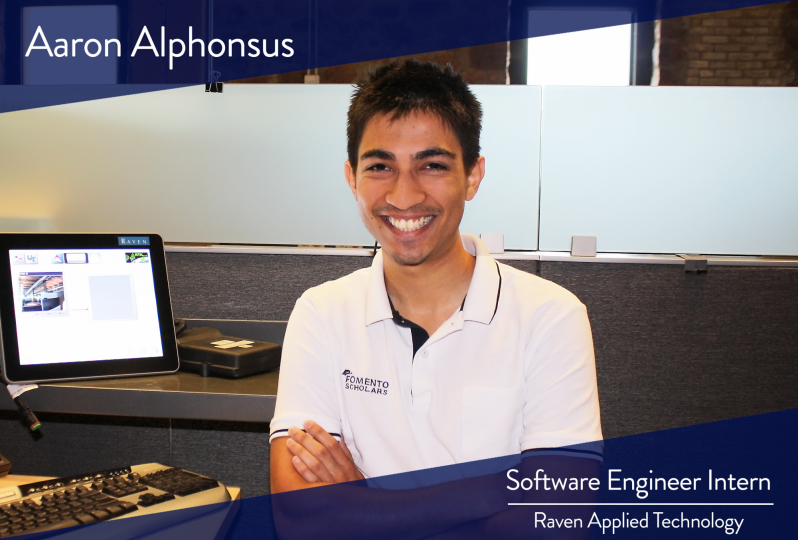 Aaron Alphonsus has joined Raven Applied Technology for the summer as a Software Engineer Intern. He will being going into his senior year at South Dakota School of Mines & Technology.
Summer at Raven
Aaron has been putting his software engineering skills to the test this summer as he works on the operating system that runs the Raven Viper® 4+. He has recently been creating a camera widget for the job screen. Aaron is excited about the opportunity that he was given to work on this project, and he believes that it is a great place to observe how software is built as a team.
Aaron's favorite things about Raven are the learning sessions and personal development presentations that team members are provided. He enjoys the relationships that he has built and he feels like a valuable team member at Raven. Aaron believes that the Raven Internship Program sets itself apart from the rest by exposing interns to various parts of the company through weekly learning session and a real chance to apply your skills.
Aaron is a strong believer in bettering himself as an individual through Peak Performance. He is always on the lookout for things that he can learn and improve on at home or in his profession. The Raven Learning Sessions resonate with Aaron closely because he can continue his personal development through these opportunities. His determination to embrace ongoing improvement and empowerment is why Aaron's strongest Raven Value is Humility. Aaron believes that this value is important to get an accurate perception of who you are and the areas of your life that can be improved in order to to continuously thrive.
More About Aaron
Aaron's hometown is Goa, India. He was awarded the Fomento Scholarship, which is a scholarship program that is aimed at providing a select group of students from Goa the opportunity to pursue an engineering education in the United States. Aaron chose South Dakota School of Mines & Technology to purse a career in computer science. In his off-time, you can find Aaron playing soccer, listening to music, going to concerts, or watching his favorite TV shows.
Fun Facts
Favorite Snack: Cookies n' cream ice cream
Favorite TV Show: Silicon Valley
---
Written by Hannah McKelvey, 2017 Marketing & Communications Intern
---