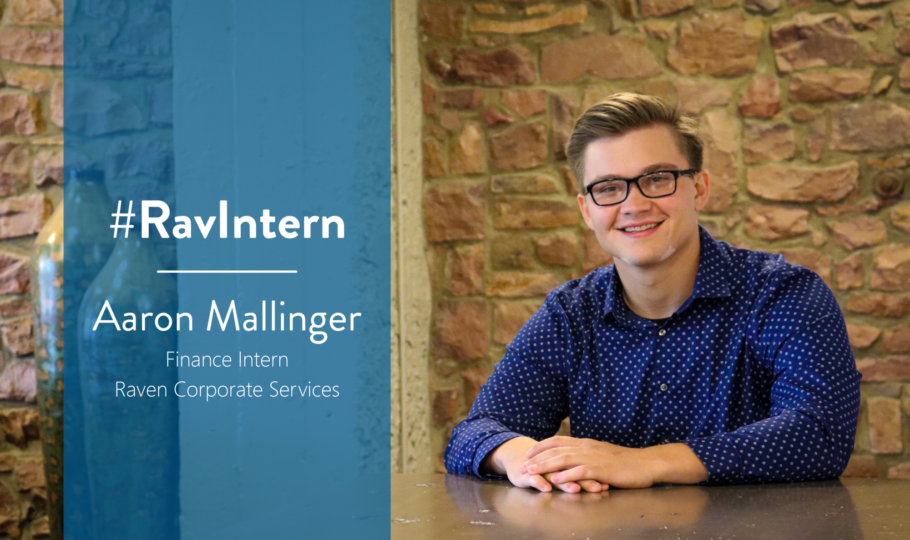 Meet Aaron
Aaron Mallinger is joining Raven, this summer, as a Finance Intern. He is currently in Graduate school at the University of South Dakota as he continues his studies in accounting. Throughout the summer, he is working with Raven's tax department as he conducts research on new tax laws, prepares various tax calculations, and performing data analysis.
Aaron chose the field of accounting for a variety of reasons. First, accounting is a very secure field to go into. Everywhere you go there are businesses that need accountants. Secondly, accounting is the language of business. From a very young age, he knew he had a business mindset and wanted to learn how to speak, write, and interpret this language. Lastly, he knows there are a lot of opportunities in accounting, especially for future leadership positions and he wants to be able to capitalize on that.
Summer at Raven
This summer, Aaron is working on various tasks in our tax department. Throughout his internship so far, he has been challenged with many interesting tasks which include conducting research on new tax laws, preparing tax depreciation and tax return calculations, and data analysis. Aaron had not had previous experience with working closely with corporate taxes, so this has been a great learning experience for him.
One of the projects he has worked on was creating a Canada goods and service tax, provincial sales tax, and harmonized a sales tax guide for Raven Canada and OMNiPOWER™. This guide will help team members understand which Canada transactional tax rate to use when preparing sales invoices to customers in Canada. Through this project, he had to conduct a lot of research on different tax laws in Canada. He had to determine which tax law and rate applied to which province. Aaron took a lot away from this project, such as understanding humility and asking for help. The project challenged his knowledge, and he knew he couldn't — nor was expected to — do it all on his own. Another lesson he has learned is that tax laws are constantly changing. Because of that, he realizes the ability of a company to effectively research plays a large part in their ability to stay compliant with those laws.
One of the best parts of Aaron's internship has been meeting a lot of team members at Raven that have really had an impact on him. He feels that not only is the company investing in him through providing real-life applications, but the people at Raven are also investing in him as a person. His mentor and supervisor guided him on deciding what he wants to do after he graduates from college. He appreciates Raven's culture of encouragement and continual growth as an individual and as a company.
The best part of my internship has been meeting some of the amazing people that work here. There are some extremely intelligent, inspiring, and hard-working people here that I'm happy I met very early in my career."
When asked which Raven Value (drive, humility, courage, authenticity, integrity, and service) resonates with him the most, he said humility. He acknowledges he doesn't know everything and that there are a lot of questions that he will need to ask to build a solid foundation for his future career.
Fun Facts About Aaron
Random fun fact: He was the Director of Finance for the Student Government Association at the University of South Dakota.
Favorite pizza topping: Canadian bacon and pineapple by far.
Dream job: Aaron's dream job is to be the CFO of a Fortune 500 company. He wants to have an international impact on a business's future and profitability.
---
Written by Brandon Kjonegaard, 2021 Communications Intern, Raven Industries

---