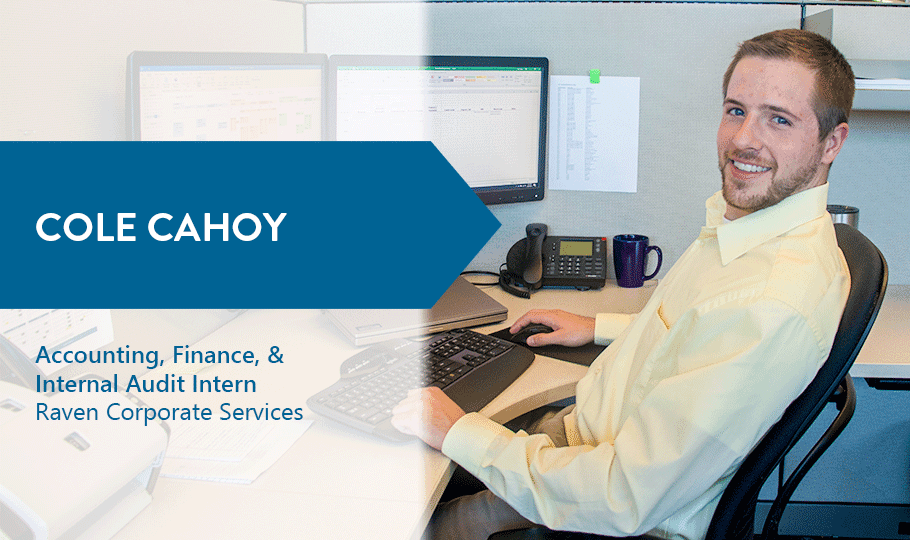 Meet Cole
Equal parts polite and knowledgeable, future accountant Cole Cahoy has joined Raven for the summer within the finance department. Backed by a bachelor's degree in accounting from the University of South Dakota — "the best business school in South Dakota" as he puts it — Cole has been working hard to eliminate any inconsistencies and ensure that Raven remains an honest company.
Summer at Raven
Cole usually starts his work day a little before 8:00 a.m. (punctuality is never a bad trait), and spends some time reviewing his to-do list. He writes the list himself, but most of his assignments come from his supervisor Zach Rockwood, Interim Internal Audit Manager. For the most part, Cole gets to choose what he would like to work on. He may turn to Zach for help in determining importance of work, but after high priority items are finished, Cole has free reign to pick from his schedule. He says he really enjoys the flexibility along with freedom to make his own decisions.
Cole also values the fact that his work at Raven is important. He's making decisions that will affect the company and how it operates, which only strengthens the growth and learning he will experience during his internship.
You have to be open to a change of duties. At Raven, you feel like you are needed and not just doing busy work."
Cole's internship originally involved financial reporting, but after some changes on the team, Cole was given the opportunity to take on additional tasks related to internal auditing. With the audit work, he manages a meaningful task: prepping workbooks and updating test procedures for second-quarter testing. A test procedure is a formatted method to test for controls during the internal audit. Prior to Cole joining Raven, the workbook needed updating. While going through the workbook, Cole edits and even adds procedures as he sees fit. If he runs into any confusion, he simply highlights the issue and presents it to Zach for advice.
I am surprised how the people who are not my supervisor are still willing to help me with an issues or questions I may have."
As Cole continues his internship over the summer, he spends his days surrounded by his work and good company. He mentioned one of his favorite parts about working for Raven is the comradery and friendship he finds amongst his coworkers. Every day, they head up to the Raven rooftop patio to grab lunch and chat. They were even present to witness the second half of the Arc of Dreams being raised.
Fun Facts About Cole
Favorite Movie: Star Wars: The Empire Strikes Back or Revenge of the Sith
Favorite Vacation: Cole recently took a trip to Myrtle Beach in South Carolina, but also enjoys camping near Lewis & Clark lake in South Dakota and Nebraska
Random Fact: Being of Czech decent, Cole has never been to the Czech Republic and would like to go someday
Free time favorites: Cole enjoys golfing, watching The Office, or working out
Favorite food: To Cole, there is nothing better in the world than a home-grilled steak
---
Written by Dylan Ochsner, 2019 Marketing & Sales Intern