Meet Duane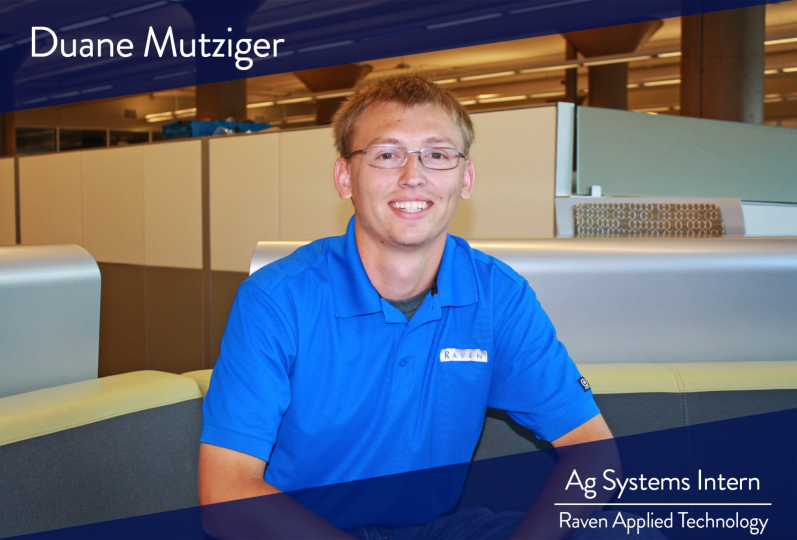 Duane Mutziger has returned to Raven Applied Technology for his third summer internship as an Ag Systems Engineer Intern. Duane continues his hard work and commitment to Raven through the school year while he studies Agriculture and Biosystems Engineering at South Dakota State University.
Summer at Raven
Duane often finds that he has no problem staying busy at Raven. He currently has his hands in four different projects this summer. The main project that Duane has been focused on is improving the Sidekick Pro™direct injection system. He is redesigning the shuttles to make them lighter and updating the efficiency of the sensor so it no longer needs to be adjusted by the customer. The second major project that Duane is involved with is updating and creating more robust senors for the next generation of the AutoBoom® automatic boom height control system. Duane is conducting field testing and collecting data for new radar technology in order to improve the algorithm, which will effect the overall performance.
Engineering is not the only side of projects that Duane is involved with. For his third major project, Duane gets to see the business side of products first-hand. For example, he has been assisting in evaluating the cost and effectiveness of the AccuFlow™ Vortex cooling system. His goal for this product is to make it more cost effective as it is continuously being updated and improved. Duane has the opportunity to take his knowledge back to The Raven Research and Development Facility at South Dakota State University. His fourth project is teaching new designs and creating engineering circuit boards for the students. According to Duane, he enjoys being able to educate the students and familiarize them with Precision Agriculture engineering.
His involvement in a variety of projects has made Duane's internship a continuous opportunity to learn and grow as an engineer throughout his three summers at Raven. According to Duane, the Raven Internship Program is special because interns are truly valued. He is able to pitch ideas to his supervisors and in turn, they give him the freedom to go out and test it.
Duane ensures quality in Raven products by taking each aspect of the product and testing it. He believes that by testing it in different environments, fluids, and viscosity, he can ensure that the product is prepared for anything that can be thrown at it when it is ready to be taken to the market. The Raven Value of Integrity resonates with Duane the most. He understands that there is expectations that need to be met as an intern, and he is always prepared to go above and beyond. His integrity shows through his willingness take his work home to the farm on the weekends. Raven team members rely on Duane to collect data from his projects, and he is never afraid to raise his hand if anyone needs his help.
More About Duane
Duane's hometown is Ethan, SD, the perfect place for him to do the things that he loves. When he is not helping on the farm, you can find him with fishing pole in his hand, hunting, hanging out with friends, and enjoying the outdoors. Duane chose South Dakota State University because it had the program and career path that he was interested in pursing. This fall will be his ninth and final semester as a Jackrabbit.
Fun Facts
Favorite Drink: Dr. Pepper
Favorite TV show: NCIS
---
Written by Hannah McKelvey, 2017 Marketing & Communications Intern
---