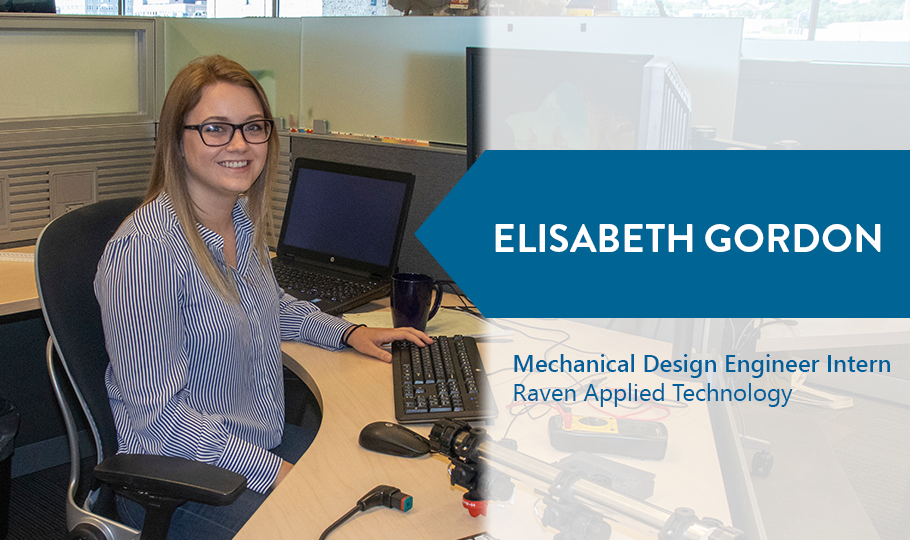 Meet Elisabeth
Originally from Marshall, MN, Elisabeth Gordon is attending school at South Dakota State University, only about an hour away from home. Elisabeth says she chose SDSU because she really enjoys the area and her father is an alumnus. At the end of the summer, she will be entering her senior year, majoring in Mechanical Engineering and minoring in Mathematics and Sustainable Energy Systems.
Elisabeth is putting in a lot of hours to assure the quality of Raven's precision agriculture products for Raven Applied Technology. Before coming on board to the Raven team, she knew it would be a challenge working with the various electrical components used in the work place. However, her drive and dedication push her to learn more every day.
Summer at Raven
Testing product and developing tools fills up much of Elisabeth's time at Raven. When Elisabeth has downtime, she is likely to be found at the coffee machine. Most often, though, you can find her performing flow analysis and testing, working with mechanical designs, or performing thermal-cycling tests.
The Hawkeye® Nozzle Control System, designed to control the application flow rate for agriculture sprayers, is one product Elisabeth has been working closely with. This pressure-based product control system allows for precise sprayer application in a variety of conditions, reducing spray drift and getting the most out of every nozzle. Through various tests, Elisabeth is able to provide useful information on the flow rate of the device, and she noted that her background in fluid mechanics has been a great benefit in this area of her work.
I am amazed at the collaboration that is present at Raven, and it is easily a huge contributor to their quality of products."
Elisabeth is also honing her mechanical design abilities by developing an Over-Molding tool in a 3D modeling software. It is important that the wires within cabling systems are protected. The tool she is designing aims to provide a rubber coating around loose wires between the jacket and connectors. This helps to prevent fraying or damage that may occur while the systems are operating in the field.

In addition to Hawkeye, Elisabeth gets to test and ensure the quality of other Raven products as well. From an outsider perspective, the thermal-cycling tests she has been conducting might appear as though Elisabeth is trying to break products in fancy ways. To perform the test, she places the product in a special oven — it is either heated, cooled, or both — and then records information on how various components are affected. This work may seem like a dream to a destructive toddler; in reality, she is testing the product's resilience to ensure the quality of products when exposed to drastic weather changes.
When beginning her internship, Elisabeth knew she might not have the deepest knowledge of the electrical components she would be working around, but that didn't stop her. As a mechanical engineer, Elisabeth works on developing parts that protect or improve the electromechanical components. Before working for Raven, she was very used to the mechanical side and being able to see what was happening; now working with the electrical side, there is much that can't be seen with the naked eye. Though it is a challenge, she has been excited to learn outside of her comfort zone within the field of engineering — fully caffeinated, of course.
Electronics are everywhere, and there is no better way to learn than to jump right into it."
Raven has many values, but the one Elisabeth feels strongly connected to is drive. From a young age, she has been working very hard to attain her goals, and she believes success is also dependent on the efforts of those around you. Elisabeth works best when her coworkers match her tempo.
I believe the team members' drive is why Raven is successful in innovation and solving great challenges."
Fun Facts About Elisabeth
Favorite summer hobbies: Elisabeth enjoys spending the day on a lake, waterboarding, and fishing.
Favorite ice cream flavor: If she is at Coldstone, she certainly has Cotton Candy ice cream in her cup.
Best summer grill-out food: Like fellow intern Paul Lestingi, she is a big fan of brats, but not the gummy bear flavored ones.
Random fact: She is a HUGE coffee enthusiast — it's rare to see her without a cup of coffee around the office!
---
Written by Dylan Ochsner, 2019 Marketing & Sales Intern