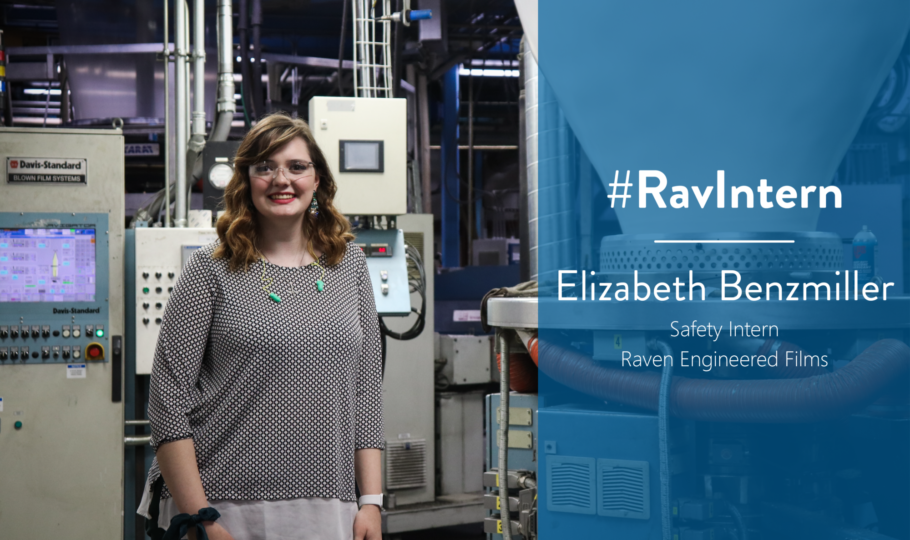 Meet Elizabeth
This summer, Elizabeth Benzmiller is joining Raven as a safety intern for Raven Engineered Films. She is going into her final year at South Dakota School of Mines, studying Science, Technology, and Society. Throughout the summer, she is working at the Engineered Films plant in Sioux Falls to improve and communicate safety policies and procedures.
Elizabeth originally studied industrial engineering and engineering management, but she recently switched her field of study to Science, Technology, and Society. She made this switch because of the need for more people in STEM who know how to communicate with people outside of the STEM fields. She says there's a disconnect between how engineers and scientists speak, and she hopes to be able to reduce that disconnect to make STEM fields more accessible to all to understand and learn from. Her goal with this degree is to "simply help people." She hopes that through her studies and degree, she can go out into the field to serve others.
Summer at Raven
This summer, Elizabeth is working at our Engineered Films Industrial Plant in Sioux Falls to improve and communicate the safety procedures and policies to help protect team members working on the manufacturing floor. Her typical day is a mix of office work and interacting with team members on the manufacturing floor. She is tasked with communicating weekly to our team members in all the Engineered Films plants to emphasize safe practices and to inform them about our safety guidelines.
One of the projects she is working on throughout the summer involves improving the process of roll cut-down, which is used to reclaim film. The process is extremely laborious and dangerous, so she is working towards making it safer by finding a better solution. Another project she is working on involves reviewing our Hearing Conservation program. The manufacturing floor can be quite loud with all the machinery going. Elizabeth conducts noise sampling to assess the noise levels in the plant to ensure the safety and health of our team members.
From the internship so far, Elizabeth has learned a lot about genuinely asking more questions than you are comfortable with asking. Because of her projects challenging her knowledge, she has learned that she can't do everything on her own. Instead, Elizabeth found that she can rely on her colleagues to help her come up with innovative solutions to problems that she is faced with.
One of Elizabeth's favorite parts of her internship experience so far is the people that she meets and works with. Throughout her day, she interacts and works with a lot of different people across the company. She finds this to be an essential part of the job because, through her interactions, she can learn what the team members on the floor need to make their jobs safer.
I am learning that I can't do it alone and I know that I can rely on the supervisors, operators, and team members to help me come up with creative and innovative solutions to the daily problems I am faced with."
When asked which of the Dimensions of Competition stands out in her daily work, she said Innovation. In her role at Raven, they must always be moving forward. If her team doesn't stay diligent and creative in their work, they won't be able to come up with unique solutions to various problems. Her team must be innovative by looking at things from a different perspective and expanding their horizons.
Fun Facts About Elizabeth
Random fun fact: She interned at the Capitol in Pierre, SD and worked for the SD Senate, and worked closely with nearly every senator.
Best summer grill-out food: Watermelon!
Favorite pizza topping: "Unpopular opinion, I know, but pineapple and breakfast bacon."
Dream job: "I just want to help people, so whatever job lets me do that." But, if she's really dreaming big, she wouldn't mind being the CEO of a company someday.