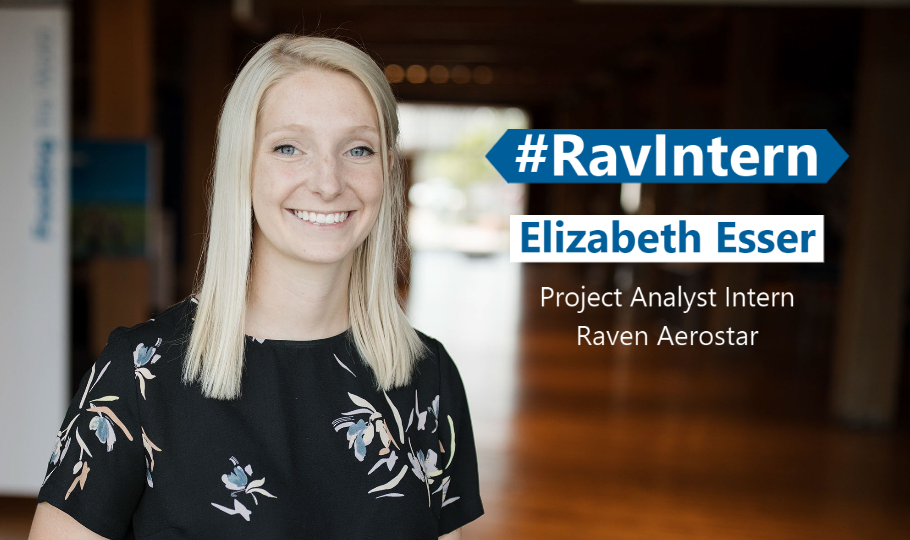 Meet Elizabeth
Elizabeth Esser graduated from South Dakota State University in May 2019 with a major in Dietetics. She has had varying career interests since then, taking a leap of faith to try something new with Raven as a Project Analyst Intern. She has worked closely with our stratospheric programs and teams at Raven since the beginning of the year. With no background in stratospheric ballooning, she continues to learn a lot about the industry and has found it to be really exciting!
Summer at Raven
Each day, Elizabeth helps the Raven Aerostar team stay on track with their projects by managing timelines, resources, and budgets. To do so, she meets with individual teams to track their current projects and plan for future projects. Because of her job duties, she has had the opportunity to develop her project management skills and grow her communication abilities as she gets to work with team members across different divisions with different skill sets.
This summer, Elizabeth will be focused on research and development projects for the stratospheric team. This includes improvements to Thunderstorm, software improvements, and other miscellaneous improvements involving the structure, launch, and flight electronics teams. As a team they are working hard to provide a more competitive advantage and improve our products. Elizabeth commented that one of the biggest challenges she has faced while at Raven is getting to know our "lingo," but has appreciated the support of her team to get her up and running with our many acronyms and terms.
One of the best things about working at Raven is the culture and the people. I appreciate how welcomed I have felt and am fortunate to have learned so much in such a short amount of time."

In the #RavIntern program, it is our goal to give our interns a well-rounded job-based experience. As part of this, we share and develop on the Raven Team Member Values, which are important foundations of our culture.
When asked what Raven value resonates with her most she said, "Courage." Her goal in life is to make an impact on the world, and she feels that this will take a large amount of courage. To develop this, she enjoys being around people that are courageous and are willing to do what they can to better themselves and others. She finds that many people at Raven hold this courageous quality, which is why she finds herself fitting in so well. We are excited to have Elizabeth boldly continue her summer internship with us!
Fun Facts About Elizabeth
One new habit she has developed since COVID-19: Waking up earlier to utilize the time in the morning. Elizabeth commented, "Early bird gets the worm!"
Something she'd like to learn: Another language — especially Spanish or French
Dream vacation spot: Fiji & New Zealand
Favorite ice cream flavor: Cookies & Cream (Go State)