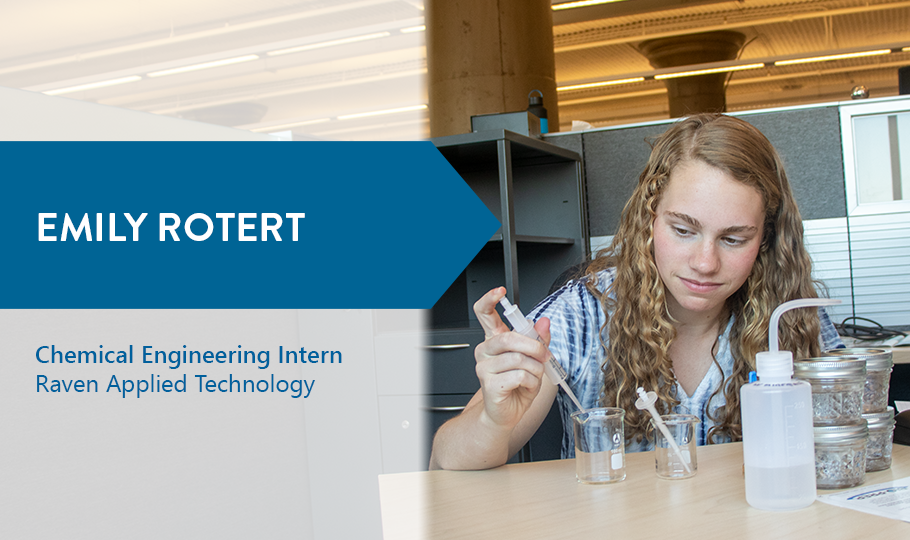 Meet Emily
Before diving into her sophomore year of college, Emily Rotert is spending her summer in Sioux Falls as a #RavIntern for Raven Applied Technology! Emily is originally from Sioux Falls, but goes to school at Colorado School of Mines because she says it has one of the best chemical engineering programs in the nation (and because of the better hiking spots). During this time, she has discovered that she has a passion for chemistry and applying what she learns to real life.
Emily is a very busy person — she is a competitive swimmer for her college, works multiple jobs, and does a lot of academic research — but she has a positive demeanor and faces her busy schedule with a smile. Whether she is gathering data on chemicals or studying various technologies, Emily is working hard and making a great impact in her internship this summer.
Summer at Raven
A typical day for Emily involves researching areas that will have a positive impact on product application. She is involved in developing procedures for potential use in future lab testing, outlining the equipment, tools, and measurements needed for certain experiments. In addition to documenting these processes, Emily performs a variety of lab tests herself. The data she is collecting will be used to develop and improve Raven precision agriculture products.
Emily notes that working in the lab is helping her improve her research skills, as there are vast differences between academic and work-based research. In an academic setting, Emily gathers data to be used as a stand-alone resource. However, in her work as an intern, she is researching to influence real business decisions. Her work often requires additional insight and will impact purchasing or product development choices. This means that Emily must be dedicated in her work to derive, analyze, and apply useful information.
Developing strong research skills will help later in college courses, undergrad research, and in my future career. I am glad that I am gaining this experience now."
However, it's not just research — Emily also challenges herself by learning how to code. As a chemical engineer, it is not required that she learn coding, but she believes it to be an invaluable skill for any problem that may arise. It certainly helps that many of her #RavIntern colleagues are software engineering interns!
Emily noted that a very enjoyable part of this internship is that she can form so many meaningful relationships with her coworkers. While she may be doing challenging work, she knows that she can turn in any direction for help. In turn, she gladly provides service to those that ask, knowing that her input has a real impact on her teammates at Raven.
Almost every day, I meet someone new who is interested in what I've been working on, and many appreciate whatever assistance I can provide for their work."
Emily is enjoying both the challenging aspects of her work as well as getting to know and be a part of the Raven Family!
Fun Facts About Emily
Dream summer vacation destination: backpacking in the Alps
Favorite sport/summer pastimes: running, swimming, hiking, climbing, and lifting; she is looking to pick up mountain biking and hoping to participate in a few future Ironman Triathlons
Best summer grill-out food: her mom's pulled pork (fun fact: her mom, Sherri Rotert, also works at Raven!)
Favorite place to eat in Sioux Falls: Lam's Vietnamese Restaurant