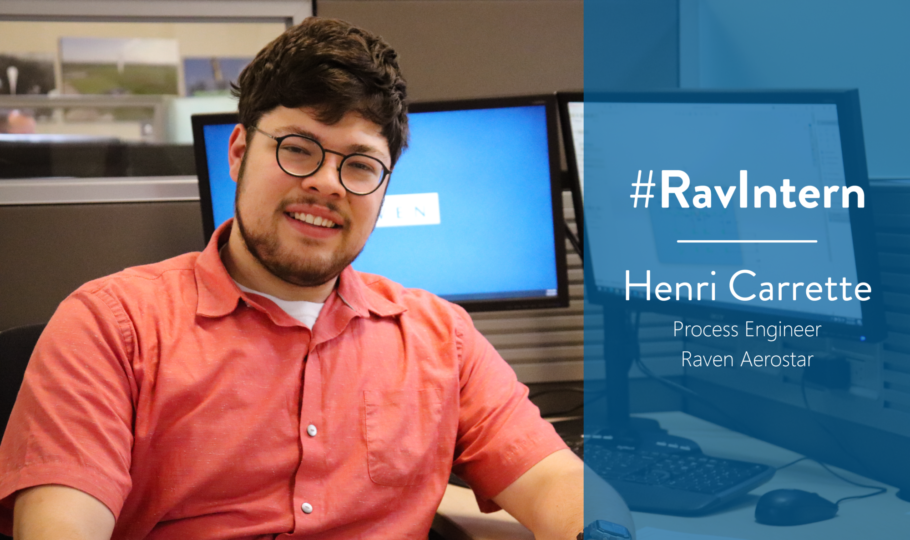 Meet Henri
Henri Carrette is joining Raven for the summer from Dell Rapids, SD. He is working with Raven Aerostar as a Process Engineering Intern. Henri is going into his last year at Dordt University as he finishes his studies in Mechanical Engineering. Throughout the summer, Henri is working on updating the equipment that is used on the manufacturing floor to improve overall productivity and efficiency.
Henri has always been fascinated with mechanical processes and machinery. His father, who's also a mechanical engineer, inspired Henri to follow in his footsteps. He's not entirely sure what's next for him, but he knows that it will either be working within manufacturing or aerospace. Regardless of where he goes, he's excited to be using his engineering skills to continuously improve the world.
I love the intentionality with which my team finishes projects. We work fast in a clean and organized manner to ensure efficiency and productivity."
Summer at Raven
Throughout the summer, Henri is working within Aerostar to improve the efficiency and productivity of the manufacturing floor. His typical day starts with a meeting with the entire team in the morning to discuss current projects so that everyone is on the same page. Then, he gets to work — designing and fabricating tools, equipment, and parts. With these projects, he works a lot in CAD (Computer-Aided Design), a 3D-design software, so he can mock-up and visualize his designs prior to fabricating. Once the designs are all set, he can go ahead and work on bringing them to life. One challenge that he has run into frequently is the fact that something that works within CAD is not always possible when fabricating. He believes that this lesson will make him a better designer in the future!
One of his current projects involves improving and reinventing the MOLLE sewing process to make the sewing fixtures universal and increase the speed of the entire process. Aerostar does MOLLE sewing to create gas-mask pouches and other protective gear for pilots.
As Henri continues his internship, he is excited to learn more from his mentors and fellow team members. He says that he has learned a lot about communication so far this summer. He has learned that he nor anybody else on the team have to be able to do everything on their own. He finds that asking for feedback and help when he gets stuck is much more efficient and productive than spending a lot of time trying to solve it on his own.
I've learned that I don't always have to do everything on my own. My team is always readily available, going above and beyond to help me solve my own questions."
Fun Facts About Henri
Favorite quote: "If you live for people's acceptance, you'll die from their rejections" — Lecrae
Dream job: Working for NASA! He says he's always been fascinated with space and would love to be a part of the exploration of the universe.
Favorite TV Show: "For All Mankind"
---
Written by Brandon Kjonegaard, 2021 Communications Intern, Raven Industries
---