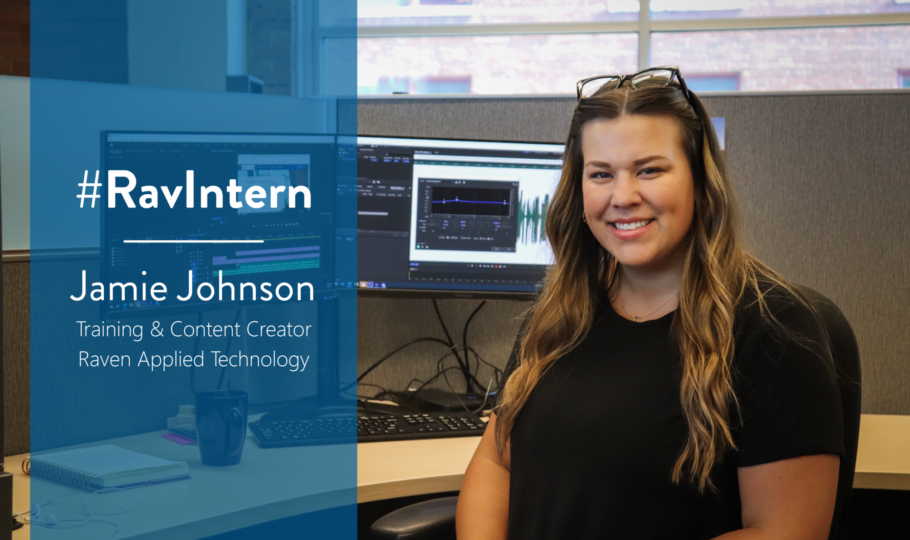 Meet Jamie
Jamie Johnson is joining Raven this summer as our Content Creator and Training Intern. Jamie has just finished up her studies in Media and Journalism Specialization in Strategic Communications at the University of South Dakota. Throughout the summer, Jamie is working on improving and updating training presentations and videos for Raven's dealers and customers.
Jamie initially majored in Business Administration before learning about Strategic Communications, a new major her college was offering. She decided to major in Media and Journalism Specialization in Strategic Communications because of its versatility. This field of study provides a little bit of everything that she's interested in with a mix of marketing, advertising, PR, communications, and graphic design. With not knowing what she wants to do post-college, this major provides her with a lot of options of what she can do or where she can go.
I became a valuable part of the team from day one as I was assigned hands-on projects that have a real impact on the company and its customers."
Summer at Raven
This summer at Raven, Jamie is working on updating and improving our training presentations and tutorials for our line-up of precision ag products. So far, she has been working on creating technical training presentations that will be used to help dealers better understand Raven's products. She has also been updating Raven's "how-to" videos of our products and software to make it more relevant and easier for Raven's customers to understand.
One of her bigger projects this summer involves working on creating and designing a training program for Slingshot®. This involves creating tutorial videos of how to use the software through screen recordings and screenshots so she can provide easy-to-follow step-by-step instructions.
Jamie has learned a lot from the internship. She has learned what it's like to work with a team and to have her own voice. She was surprised by how involved and hands-on she is with projects that have an impact on the company and its customers. She has learned a lot about leaning on other team members to help her further understand Raven's products to accurately create training and tutorials. Overall, she says she has benefited a lot from this internship experience and has been able to take what she has learned from college and apply it to real-life projects that have an impact on Raven's customers and dealers.
My favorite part about the internship has been meeting the people at Raven. The culture and environment here are very welcoming and encouraging."
Fun Facts About Jamie
Random Fun Fact: She has a birthmark on her tongue
Favorite Pizza Topping: Banana peppers and bacon
Favorite TV Show: Her current favorite is the Manifest
---
Written by Brandon Kjonegaard, 2021 Communications Intern, Raven Industries

---