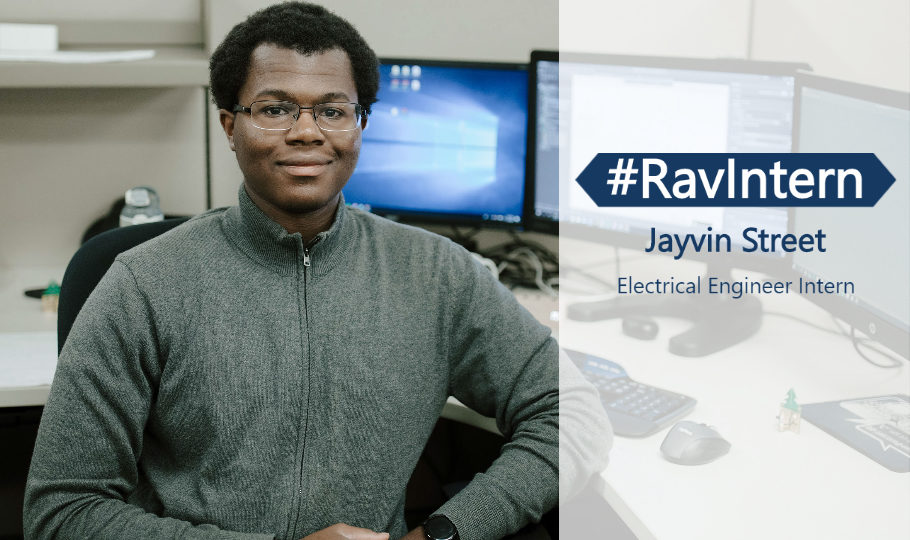 Meet Jayvin
Originally from Michigan, Jayvin Street joins the Raven Aerostar team as a recent electrical engineering graduate from the University of Toledo. As an Electrical Engineer Intern, he has worked in three different locations in his internship. He initially started his internship in Arlington, VA at the beginning of the year, then worked from home, then moved to Sioux Falls, SD in June to complete his internship.
My favorite part of this internship has been getting to travel to South Dakota and work in the Raven location for a few weeks. Along with a lot of things this year, this is something I did not predict would happen. But, I'm glad that I had the opportunity to travel, since it allowed me to see another part of Raven and another part of the country."
Summer at Raven
While his role has shifted slightly, Jayvin generally works on continuously improving printed circuit boards (PCBs) for both our stratospheric and our radar technologies. His versatile experience has helped him learn a lot about PCB routing best practices; communication and data transmission; topics surrounding Radio Frequency (RF); and more in-depth knowledge on Power Electronics.
In Arlington, he started out making and designing test PCBs, updating schematics as needed to meet quality standards. In his transition to working from home, he made sure to stay connected to the project teams as he continued to work on these projects. Now in Sioux Falls, he is working on helping the Aerostar team prepare for an internal event, while working on these continuous improvement items as a secondary priority.
Jayvin's pursuit of these unique electrical engineering skills will help him pursue his dream — to work on electronics that people use in their everyday. Through all of this, he recognizes the vast importance of humility, one of our Raven Values.
In the engineering industry, I feel that we as engineers become so experienced that we feel that we are the only source of knowledge people should seek. Often times this is true, but this thought process is a double edged sword. While one can believe that they are the smartest person in the room, that doesn't mean that nobody knows something that they don't. It's important to understand what you know and be open to another person's opinion and thought process. Listening to others and seeing how their mind works could provide you with great wisdom."
Fun Facts about Jayvin
Free Time Favorites: Working on personal electronic projects. "I enjoy making things that I intend to use in my everyday life. I only have two completed projects so far: a clock that keeps the current time when it's unplugged, and a pair of heated gloves for the winter. I'm hoping to increase my knowledge and skillset as I work on these types of projects," Jayvin commented.
Random Fun Fact: Jayvin likes to watch anime and cosplay at anime conventions.
Something he'd like to learn: Jayvin would like to pick up chess again. "I learned how to play it in high school, but I would like to pick it back up and become proficient at it," he said.