Meet Jordan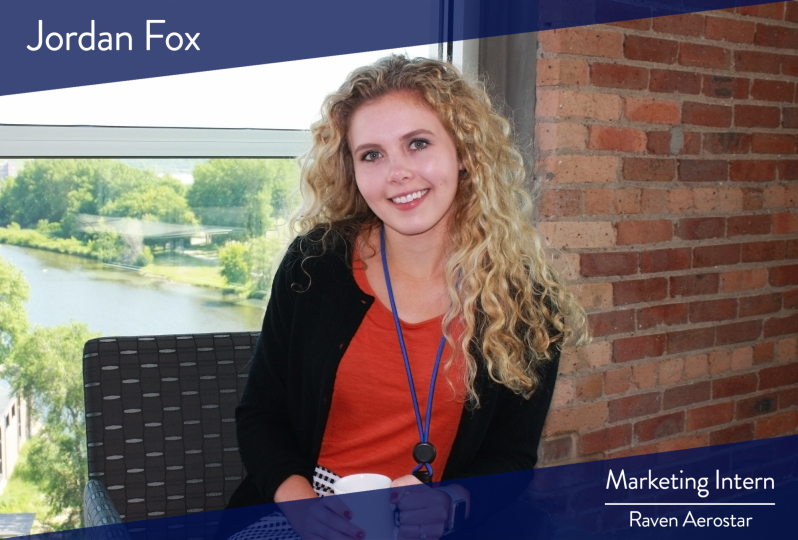 Jordan Fox is a Marketing Intern who has joined Raven Aerostar for the summer. After completing her final credits at South Dakota State University, Jordan will graduate with a Bachelor of Science degree in graphic design with a minor in marketing.
Summer at Raven
This summer, Jordan has developed marketing material that is clear and consistent with Raven's dimensions of competition and core values. She has created informative marketing handouts, and is working on organizing Raven Aerostar's website content. Learning about how Raven finds innovative ways to positively impact this world is what Jordan is the most excited about this summer.
Jordan's favorite aspect about Raven is the company's strong culture. Not only does she have the opportunity to Solve Great Challenges, but she also has the chance to learn, grow, and become the best version of herself through the company's emphasis on Peak Performance. Raven internships set themselves apart from the rest by structuring the opportunities around real world experience. Jordan's mentor, Mike Zacher (Raven Aerostar, Director of Operations) always offers his guidance when needed, but also gives Jordan the freedom to work independently. Through this opportunity, she been able to fully utilize and enrich her work ethic and marketing proficiency.
Jordan believes that it is important to better yourself as an individual both at home and at work through Peak Performance. One way that she does this is by giving back her time to the community. For example, Jordan has had the opportunity to serve at The Banquet in Sioux Falls with other Raven team members. She was humbled by the act of giving a helping hand to a stranger, and she felt even more uplifted when she was able to see the smiles and laughter fill the room. Authenticity is the Raven Value that resonates with Jordan the strongest. According to Jordan, it is important to always be true to yourself, showing others sincere kindness and trustworthiness every day.
More About Jordan
Jordan knew that SDSU would be the perfect fit for her because it was near home, Watertown, SD, and the campus felt like home. She is grateful for the amazing memories that she has made throughout college, and all of the people that she has met and have touched her life in a special way. If you can't find Jordan behind a computer screen designing her newest marketing piece, you can probably find her outside biking, kayaking, or just enjoying the fresh air.
Fun Facts
Favorite Snack: Auntie Anne's cinnamon sugar soft pretzels or a Juice Stop smoothie
Favorite TV Show: The 100
---
Written by Hannah McKelvey, 2017 Marketing & Communications Intern
---