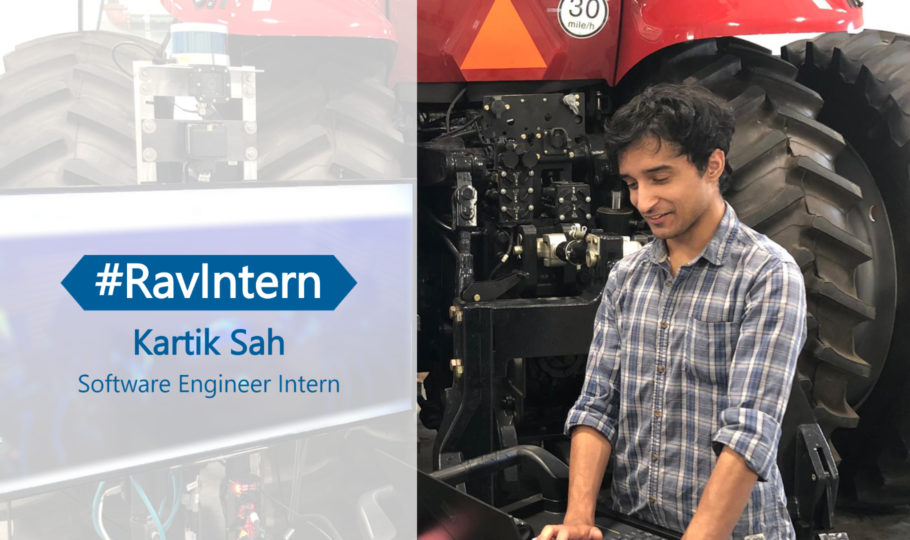 Meet Kartik
Kartik Sah joins the Raven Applied Technology team in Ames, IA, as a second year Master's student at Carnegie Mellon University, studying mechanical engineering. Originally from Nainital, India, Kartik has enjoyed his educational experience in the U.S. This includes learning and growing alongside the Raven team as they continue to develop cutting-edge autonomous technology.
He recognizes that — while working on innovative tech is exciting — the Raven value of humility is very important. "I never let success get the best of me," Kartik said. Staying humble in his education and career pursuits has helped him be more personally motivated, particularly in areas of self-reflection. He is honest with himself in terms of recognizing what he is lacking and developing those skills.
Summer at Raven
As a software engineering intern, Kartik is working on object detection for the AutoCart® platform. The vehicle uses sensors to perceive both location and depth to make navigation decisions. Kartik is focused on writing and testing code for depth perception, helping the computer more accurately turn visual sensor data into estimated object distance.
The most important learning experience for me has been the experience of testing the code, written by me, on the hardware — which is something I wanted to do in the internship."
Testing his software development work on the AutoCart® has been Kartik's favorite part of the internship. He views it as the most important part in any robotic system's code development, since many bugs, issues, and adjustments are discovered by this process.
Fun Facts about Kartik
Favorite sport: Soccer. Kartik has played soccer since 2nd Standard (2nd Grade) and never got bored of it. "I was on my undergraduate college soccer team, and even now continue to play for recreation at CMU whenever I get the time," he commented.
Favorite movies: While he isn't much of a movie person, Kartik enjoyed Dunkirk by Christopher Nolan, as well as Udaan, an Indian movie.
Favorite local restaurant: Out of all of the restaurants he's tried in Ames so far, Kartik liked Cumin Chicken from Joy's Mongolian Grill the most.