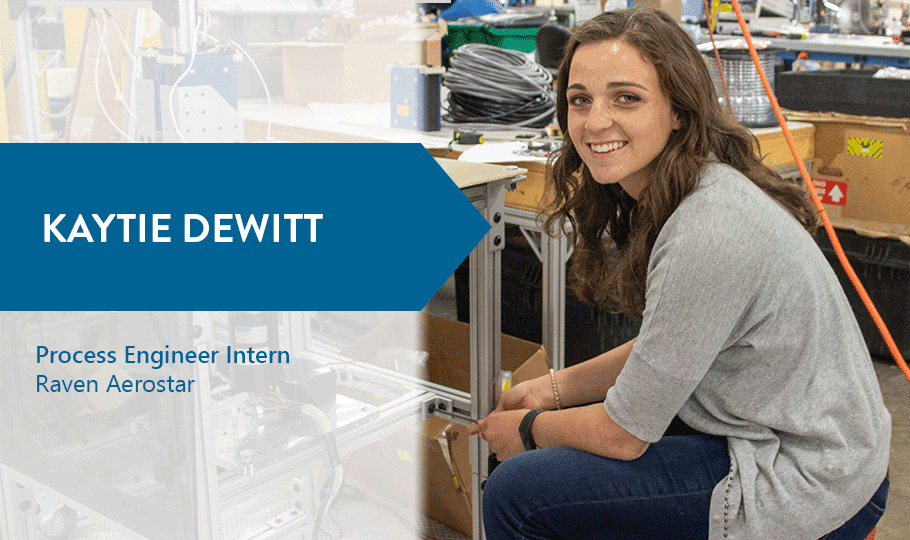 Meet Kaytie
Kaytie DeWitt has been spending her summer turning the tables on Raven — literally! Using the skills she has picked up while pursuing her mechanical engineering degree at South Dakota School of Mines and Technology, Kaytie has been working on developing a more practical testing table for Raven Aerostar's stratospheric balloon Flight Control Unit (FCU). Through her work, she is pushing herself past her comfort zone and developing meaningful relationships with her fellow team members.
Summer at Raven
Though it isn't her only project, Kaytie's work on redesigning the FCU testing machine into a table has been her most significant project so far. The procedure for testing the FCU is meant to calibrate the internal compass so that the solar panels — which charge the unit's battery during a stratospheric balloon flight — can find the best light source; however, the FCU needs to be spinning to get accurate readings. The original testing method involved suspending the units 8 feet above the ground while an engineer followed the spin with a laptop in hands. Kaytie's table allows this whole process to happen at waist level, making data collection safer and more practical.
While work with the FCU testing table involves a mechanical operation outside of the FCU, another project Kaytie has been developing works with what is inside the unit. The unit itself is a box, and due to this, it is hard to access any internal operations that may be malfunctioning. Kaytie has solved this issue by developing a flat version of the FCU where all components are spread out and in sight; this makes observations easier and provides the ability to perform a pre-test before any adjustments are made within the box.

I've come to appreciate problems that arise in my projects because I know that I will learn new, invaluable things at they are solved."
Kaytie feels most comfortable outside of her comfort zone and, lucky for her, Raven is generous in dealing out challenges. One issue she approached this summer was that she was a little inexperienced with designing a machine and building it herself. In past internships, she would work on the design for a machine and others would make her idea a reality; at Raven, it is up to Kaytie to build her thoughts into a physical object. Kaytie notes that this is difficult because it's somewhat a guess as to whether the project will work right off the design. However, there is more than one way to find a solution, and Kaytie keeps that in mind throughout her work.
I enjoy the journey from a place where I don't even know how to start to tackle a problem, to know that if I face a similar challenge again, I will be equipped to handle it."
When Kaytie needs help on a project, she doesn't need to look far, as she is surrounded by helpful Raven team members like her mentor, Test Engineer Michael Saffel, or her supervisor Emily Wegner, Industrial Engineering Supervisor. Although she is encouraged to think creatively, she feels very comfortable asking people for help if she needs it.
The office is a lot more relaxed than what I expected, and yet everyone is so productive. It's an unexpected combination of feeling at ease while at the same time facing challenges daily."
Fun Facts About Kaytie
Favorite Ice Cream: Rocky Road, and she suggests going to the Silver Lining Creamery
Favorite Activities in Rapid City: Kaytie loves going to local coffee shops (Essence of Coffee and PURE Bean), hiking, and disc golfing
Favorite Sport/Summer Pastime: Water skiing, ultimate frisbee or spike ball
---
Written by Dylan Ochsner, 2019 Marketing & Sales Intern

---