Meet Kristen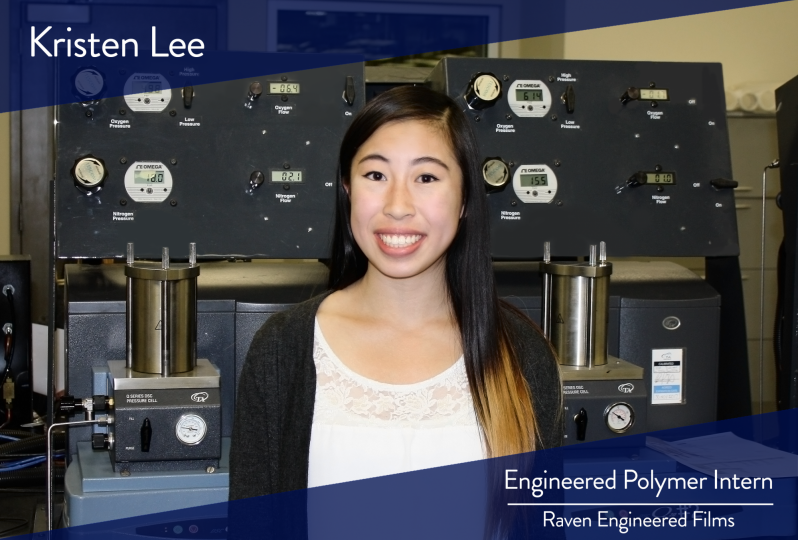 Kristen Lee is a Engineered Polymer Intern working at Raven Engineered Films for the summer. This fall, she will begin her final year at University of Illinois at Urbana-Champaign, where she studies Chemical Engineering.
Summer at Raven
Kristen's project for the summer is studying and testing the variability of a variety of polymer resins. Through quality testing, she determines whether there is too much variability in the polymer resins, which can result in production instabilities. By doing this, Kristen is helping Raven Engineered Films decide which resins are the most beneficial.
Kristen says the team members at Raven have made her internship most enjoyable. She appreciates how welcoming and willing to help everyone has been during her time here. Kristen also enjoys that she was given a specific project with true value to the company. The project has challenged her, and she believes it has strengthened her knowledge of engineered polymers. According to Kristen, the Raven Internship Program is unique because even though each intern comes from a different educational background, they all come together to Solve Great Challenges.
Kristen's summer project is all about quality. By running a variety of experimental tests as precisely as possible, she determines whether each polymer resin is in perfect condition — ensuring top quality. The Raven Value of Integrity is Kristen's strongest. She believes that is important to be honest and reliable because it reflects your personal morals and character. Kristen demonstrates integrity in everything that she does because she knows that it will result in a positive impact on herself and everyone around her.
More About Kristen
Kristen's hometown is Arlington Heights, IL. She chose the University of Illinois at Urbana-Champaign because it has one of the world's top ranked engineering programs. In her off- time Kristen enjoys traveling and going to concerts with friends.
Fun Facts
Choice of Super Power: Telekinesis
Favorite Sport: Tennis
Favorite TV Show: The Office
---
Written by Hannah McKelvey, 2017 Marketing & Communications Intern
---