Meet Morgan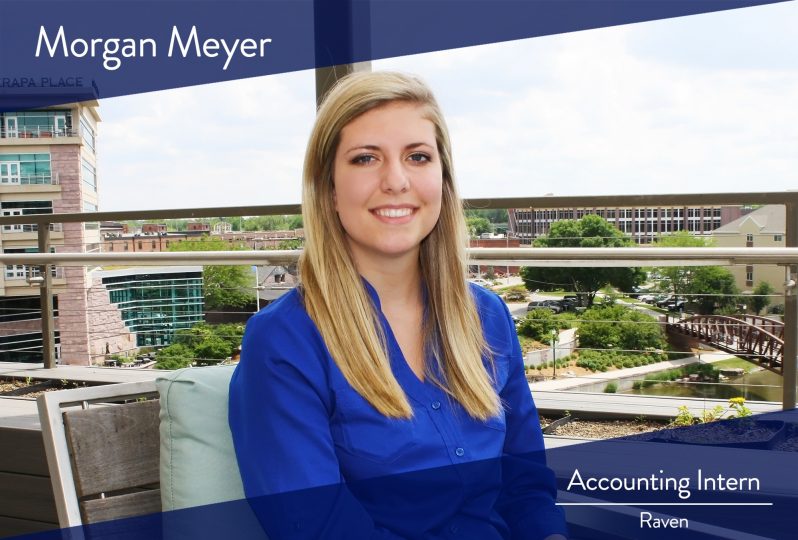 Morgan Meyer has joined Raven for the summer as an Accounting Intern. Morgan is in her fifth year at the University of South Dakota, where she is in the Joint B.B.A. / M.P.A. Fast-Track program. She will graduate in May 2018 with both a master's and bachelor's degree in accounting.
Summer at Raven
Morgan will have the opportunity to work on a wide variety of projects in Raven's accounting department over the course of the summer. Morgan is most excited to learn about the ins and outs of private accounting. She explained that there are different college courses to learn each aspect of accounting, but she is excited to see how everything comes together.
Morgan's favorite aspect of Raven is the people who work here; she noted how nice and patient everyone is when it comes to asking questions. She also loves the beautiful location of the Raven headquarters in downtown Sioux Falls. Morgan explained that Raven Internships are unique because of the weekly learning sessions that interns have to opportunity to attend. Every week, a Raven leader presents information that is important for interns to know, ranging from financials to healthy living. She enjoys how there is a continuous opportunity to learn at these sessions. In turn, at the end of the summer, each intern has the opportunity to present the things that they learned at Raven.
The Raven Value of Integrity resonates with Morgan the most. She believes that it is very important to be honest, reliable, and ethical in the accounting profession. Morgan believes that service means being kind and helping others. She explained how important it is to give back to the community and ensure service by putting full effort toward whatever you are doing.
More About Morgan
Morgan chose USD because she knew she wanted to go into accounting, stay in state, and receive an education from the Beacom School of Business. Her hometown is Mitchell, SD. In the summertime, she enjoys boating, camping, and fishing with her family in Yankton, SD.
Fun Facts
Favorite Snack: Ritz Peanut Butter Crackers
Favorite TV show: Friends
---
Written by Hannah McKelvey, 2017 Marketing & Communications Intern
---