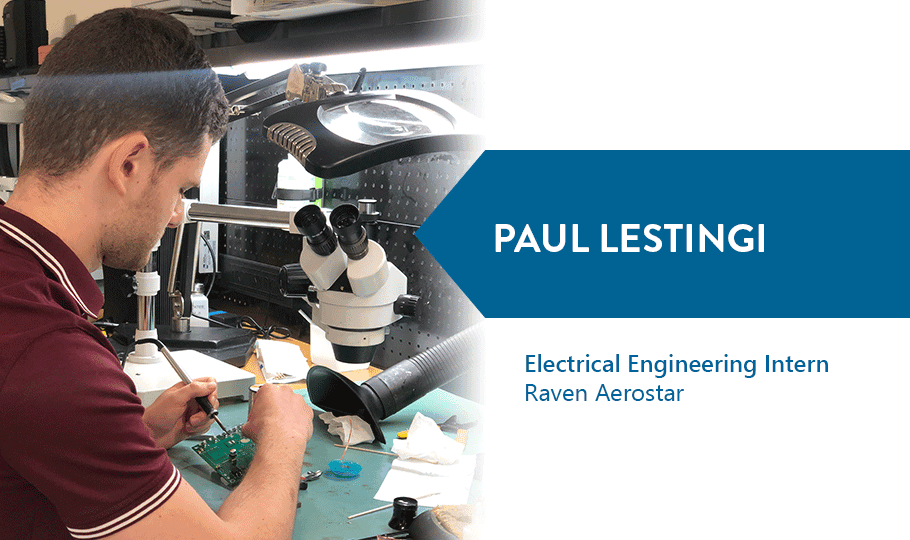 Meet Paul
A recent graduate of Virginia Tech, Paul Lestingi is spending his summer working as an Electrical Engineering Intern for Raven Aerostar in Arlington, Virginia. Originally from Marlboro, New Jersey, Paul didn't exactly land a job within walking distance of his hometown. It doesn't seem to worry him too much, as he enjoys getting into the engineering challenges Raven provides for him, and he came well-prepared from Virginia Tech. One major reason he chose the school was its engineering program — however, the awesome sports team may have swayed him as well!
Paul is working hard to apply himself at Raven Aerostar and is utilizing all the resources Raven can supply. Though it may be a challenging environment, Paul is pushing himself to excel throughout his internship.
Summer at Raven
There is no such thing as a typical day for Paul. His projects vary greatly — some days revolve around testing and troubleshooting circuit boards, while other days are spent designing circuit boards. The designing portion allows him the opportunity to learn more about the Altium program, the online workshop that he uses to design 3-D circuit boards and choose where the electrical traces will go. Once he creates a successful model, it is sent to manufacturing to turn his idea into a reality.
Paul works on many projects, but an important one this summer involves stratospheric balloons. Working closely with the Stratospheric Balloon engineering team, Paul has been helping to improve the charging capabilities of the system. Any of the work Paul puts doesn't just improve Raven products — it also provides tons of valuable learning experience.
I've been fortunate enough to learn more about electronic subjects like filtering and power electronics in my time here at Raven."
Having an internship with Raven comes with a lot of freedom and the ability to choose how you want to work; interns don't perform typical "intern work," and many operate as individuals on their own projects. The freedom and responsibility were a little surprising to Paul, but the ability to work on important projects makes being an intern at Raven unique. Paul is grateful that he can work closely with certain subsystems that will be tested and potentially used in the final product.
The freedom does also come with its own challenges to solve. Sometimes, Paul can even find himself stuck on the same problem for multiple days. Luckily, his supervisors are never too far away to guide him in the right direction. While working through the challenges, Paul says he is actively improving himself. His advice to future interns?
Ask questions early. Don't let yourself get stuck for hours, or days, on something that could be answered by a coworker in ten minutes."
Paul is making the most of his time at Raven and is working hard to challenge himself everyday. Whether he is reading the up on new circuitry or testing out current boards, he makes an excellent addition to the Raven team!
Fun Facts About Paul
Favorite Movie: My Cousin Vinny
Best summer grill out food: Brats (however, he wasn't too enthusiastic when he heard about gummy bear brats...)
Beach or Boat: Paul would much rather hang out on the beach
---
Written by Dylan Ochsner, 2019 Marketing & Sales Intern