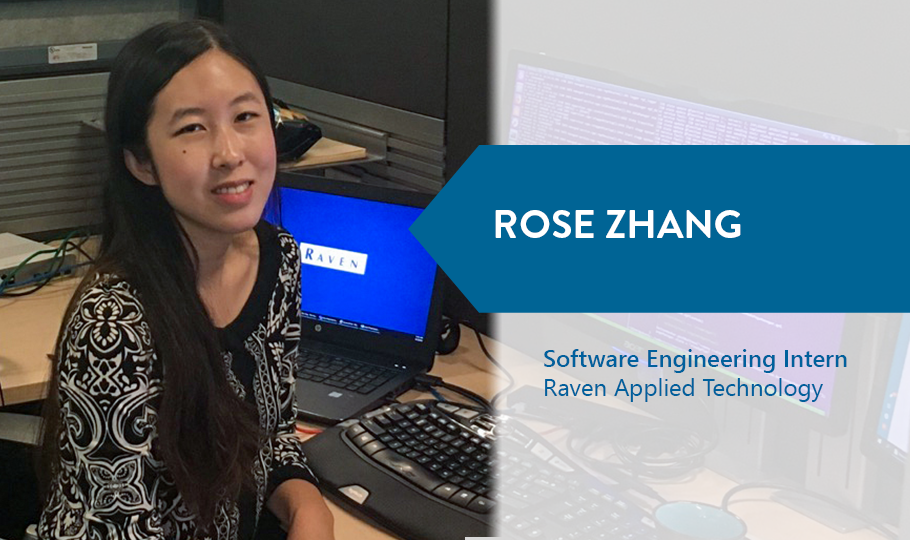 Meet Rose
Flying through tickets and developing ways to improve the functionality of Raven field computers is plenty to keep Software Engineering Intern, Rose Zhang, on her toes this summer. Well-equipped and ready to learn, Rose is operating out of the company's Austin Technology Center in Austin, Texas, where she also attends The University of Texas at Austin with hopes to receive her master's degree.
Through her internship at Raven Applied Technology, she is learning to work within a plan and to manage her time to be efficient. To some extent, it is a challenge, but Rose says she enjoys treating her work like a puzzle and figuring out which parts of a system are missing. Though the process may seem complicated at first, Rose works hard to follow specific paths while solving issues and always tries to keep the end goal in mind.
Summer at Raven
To start on a high note, Rose wanted to express how much she is enjoying her 8-5 job at Raven — credit is due to the excitement she feels for her work. She also happens to work in a very inclusive environment that allows for plenty of growth and exploration. Luckily, Rose has found her niche in computer programming and doesn't necessarily need to explore Raven's other facets; although, if needed, she has plenty of options to explore. To some degree, the challenges that Rose experiences in her work feels like a complicated hobby.
I've really enjoyed the challenges in coding I've had to solve. I did computer science puzzles every day, and now it's become my job."
The work that Rose does mainly focuses on improving the widgets within Raven's field computers. A widget is a part of an electronic interface that allows the user to interact with various functions of an operating system; for example, the flashlight button on an iPhone. Of course, the widgets that Rose operates on do more than turn on a light; they are capable of completing large tasks, like commanding agriculture sprayer arms or even activating row guidance. Though the outcomes are different, the code is still similar, and Rose is very passionate about working with the coding systems.

Her work is not always easy, though; while coding comes more easily to Rose, functioning within a live workspace started out as a challenge. She commented that it is different from what she experienced in college, and things like planning, designing, and presenting are more open-ended when compared to the strict criteria in school. There is helpful guidance, though, and Rose can often be found at design reviews where she can discuss her implementation plan with supervisors. Her advice to future interns is to go out of your way to talk to supervisors and ask questions.
Don't get too worked up! People at Raven are nice; they understand that you are an intern and that you will have plenty of questions."
Rose works on many different projects for Raven's field computers, and they don't always follow a consistent schedule. Work in her department is presented through "tickets," which are submissions for various tasks; a task can range from bugs or errors in need of correction to features that need to be added. Each ticket is ranked on a point system, which tells how difficult the work will be. At first, Rose worked mostly with the tickets, and this helped to grow her knowledge in the field computers. Today, her work is mostly focused on finishing a product, and though the work is still measurable by the point system, it's not of major consideration when she is working.
With an end-goal in sight, Rose aims to tackle problems with efficiency. There is never a wrong way to approach an issue, but finding where to start with a coding error can feel, to many people, like trying to find a misspelled word in the dictionary. Rose's method is practical, and she utilizes top down analysis to asses any issues. She treats the process like tracing, and in the example of a bug within a widget, she starts from the surface: first, she finds the widget that isn't working; next, she figures out which function of the widget is failing; from there, she dives into that function in the code and reads until she finds the error.
Fun Facts
Dream Salad: Rose prefers and southwest style chicken salad with black beans, corn, tomatoes, various other veggies, all topped with an avocado cilantro dressing. (Sub fun fact: Rose has a rare gene deviation that causes cilantro to taste like soap. For some reason, she is unable to taste this in her dressing.)
Favorite Movie: Rose loves the Star Wars movies and is unable to decide which one is her favorite.
Favorite Restaurant in Austin: Though she doesn't eat out a lot, when she does, Rose likes to go to Hunan Spicy.
---
Written by Dylan Ochsner, Marketing and Sales Intern 2019
---