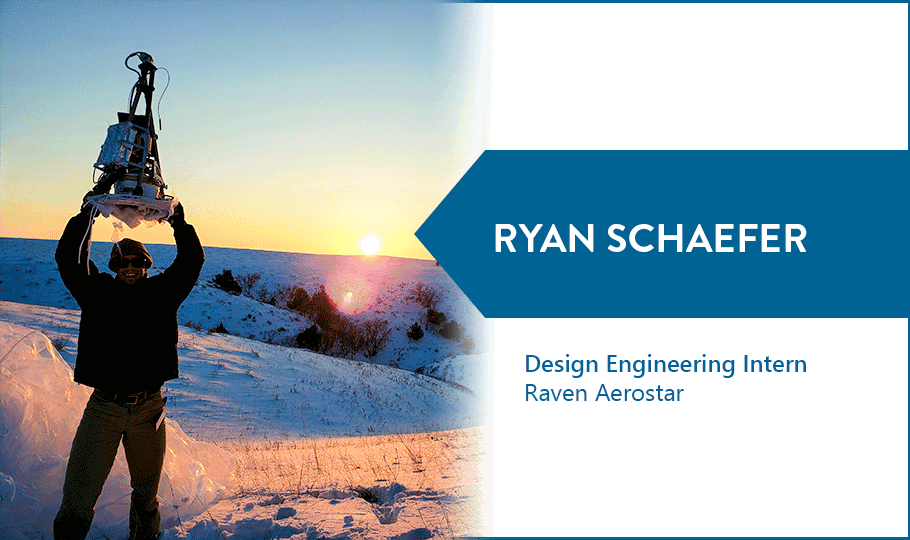 Meet Ryan
Ryan Schaefer joined the Raven team in January 2019 as a junior at South Dakota State University, studying Mechanical Engineering. Originally from Brookings, SD, he is completing his third undergraduate degree next year — holding degrees in Business Economics and Entrepreneurial Studies — and, so far, is enjoying this new career path!
Since he started in January 2019, Ryan has had a great experience of the Raven Culture, working with a variety of teams and team members within Raven Aerostar. He mentioned that this culture of continuous improvement, innovation, and drive — which stand out to him in his work every day — engage and encourage the team, motivating us to deliver on our purpose of Solving Great Challenges. "It [the Raven Culture] really makes you want to be a part of what's going on," he commented.
His Work at Raven
There is no "typical day at work" for Ryan — he has had a very diverse experience in the relatively short time that he has been with Raven. He works on a variety of tasks, mostly including programming and testing, on a few different projects. These have included the automation of a spin (friction welder) used in stratospheric balloon manufacturing and assisting Senior Design Engineer Pat Thies with our helium flow meter. Currently, Ryan is working on automating our atmospheric vacuum test chamber. In addition, he participates in a few meetings, and has accompanied the flight operations team on four balloon payload recovery missions so far.
Given the variety of tasks, Ryan says he has been learning quite a lot. Most notably, he has gained much better understanding on programmable logic controller (PLC) automation, material properties, wiring, and stratospheric ballooning. Coming into the internship with little expertise in stratospheric technology, Ryan has enjoyed diving deeper and learning all that happens in this space.
I have greatly enjoyed the diversity of all the experiences I have had here at Raven. My favorite aspect so far has been the friendships and work culture I have experienced. I have yet to experience a work environment with such great support, positivity, and excitement towards Solving Great Challenges. It is refreshingly motivating."
Ryan thanks all of his mentors — his supervisor and Engineering Team Lead Brad Jensen; Sr. Design Engineer Pat Thies; Maintenance Manager Frank Farke; Machine Technicians Gary Weeden and Rick Blume; and countless others — for taking time out of their schedules to advise him in all areas of engineering. In addition, Ryan gave fellow intern Nick Young a huge shout-out for all his work on the spin welder project and for his help in accelerating the on-boarding process as a new Raven team member. "Having another intern to collaborate and learn with helps tremendously," he noted.
For future #RavInterns, Ryan has some great advice, encouraging you to take in the diverse experiences at Raven:
Dive into this opportunity right away by taking on the challenges that come your way to make a positive impact. Ask questions; take advantage of all the experience and knowledge of those you will be working with. The time goes by so quick, try to make to most of the time you have."
Fun Facts About Ryan
Dream summer vacation: Backpacking in New Zealand
Summer highlights so far: Visited Joshua Tree, Death Valley, Sequoia, and Yosemite over Memorial Day weekend
Free time favorites: Biking, hiking, camping, beekeeping, running, biking, spending time with his family and pup (Myah)
Favorite sport/summer pastime: Pole vaulting (Ryan pole vaulted at SDSU)