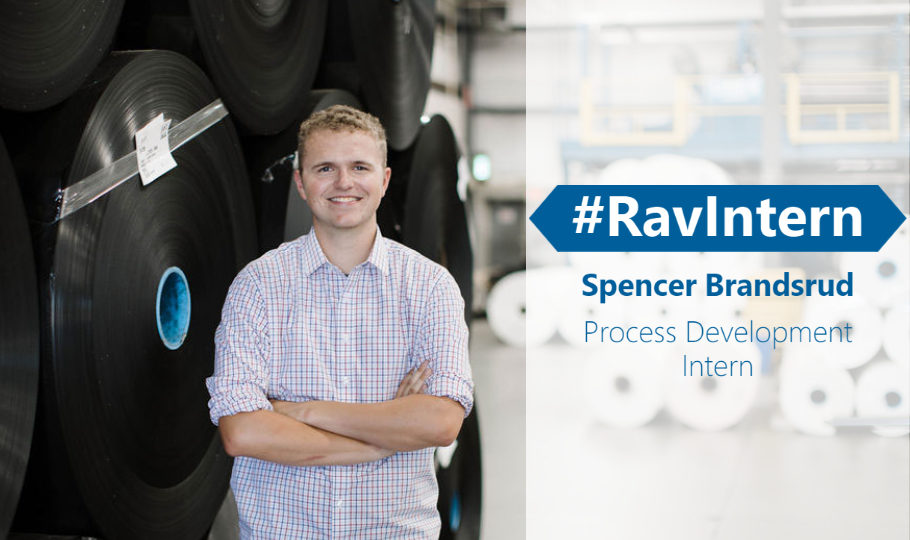 Meet Spencer
Spencer Brandsrud is a senior at South Dakota State University, joining the Raven team as a Process Development Intern for Raven Engineered Films. In his role, he spends his time conducting time studies or calculating amounts of materials that will be needed to fulfill large orders. He also assists with research and development trials or performs research at his desk for different methods to increase production.
During his time at Raven, Spencer has noticed the perks of a project-based education as he starts his real-world experience. He noted, "I think that students would benefit greatly if they had to do more group projects." The soft skills that he developed in his project-based education have transferred nicely to the work environment at Raven.
Summer at Raven
At work, his high-level purpose is to provide support for our engineered film production. This can take many different forms depending on the team need. The biggest project that Spencer is working on this summer involves increasing production efficiency so that we can fulfill a large contract with the Federal Emergency Management Agency (FEMA). To help meet this deadline, he is adjusted different processes and brainstormed solutions. These adjustments on the production floor are helping team members meet their daily efficiency goals.
Ultimately, Spencer realizes that the process that goes into our quality film products starts with a team of quality people. He does his part to maintain a relaxed work environment by striking up small, supportive conversations with his engineering teammates.
My favorite part of the internship experience has been the people. Of course, it's great to have the opportunity to show how much your college curriculum has taught you, but nothing beats the opportunity to work with real-life engineers, both to see how they interact and how your education fits into the real world."
Fun Facts About Spencer
Random Fun Fact: Spencer designed and built a Bluetooth-controlled car using an Arduino® micro-controller.
Dream Vacation Spot: Touring Europe. "I love history and would love to tour Europe to see the rich history there," Spencer commented.
Favorite Ice Cream Flavor: The original Cookies and Cream at South Dakota State University's campus (he's the second intern to call this out).