Meet Spencer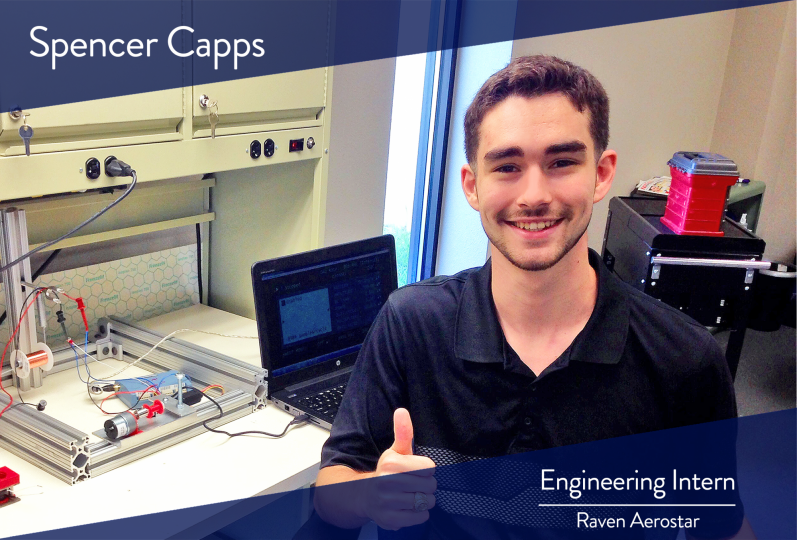 Spencer Capps has returned for a second summer with Raven Aerostar as an Engineering Intern in Sulphur Springs, TX. In the fall, he will be graduating with a Bachelor of Science Degree in Electrical Engineering from Texas A&M University.
Summer at Raven
This summer, Spencer has continued his Electromagnetically-Controlled Ballast Valve project that he started last summer. He is altering and improving the design so it can function more efficiently. Along with these alterations, Spencer is building a winding assembly to create the solenoid required for the ballast valve. This will ensure that Raven Aerostar will not need to order custom-made solenoids from a manufacturer. 
Spencer appreciates the opportunity to continue his work on this project and gain a deeper understanding of electromagnetics. According to Spencer, he is excited to continue to help the future of Raven Aerostar flights by improving the ballast valve design. He enjoys the freedom that Raven has given him to use his engineering knowledge and creativity to construct a design of his own. Spencer explained that the Raven Internship Program is unique because he is able to improve his project management and innovation skills, and he has the chance to work with experienced Raven team members.
Spencer is passionate about bettering himself as an individual through Peak Performance. One of the ways that he does this is by reading books such as Shaken by Tim Tebow and What on Earth Am I Here For? by Rick Warren. Spencer believes that these books have given him the ability to approach each day with a better perspective and apply that knowledge to improve his character. The Raven Value of Authenticity is Spencer's strongest. He strives to be someone that is seen as dependable, regardless of the circumstances. His Authenticity is reflected not only through his words, but also through his actions.
More About Spencer
Spencer's hometown is Quitman, TX, which is about 30 minutes from the Raven Aerostar facility in Sulphur Springs. His mother is a Texas A&M alumna, so Spencer's family often attended sporting events on campus when he was growing up. These memories, along with the strong reputation for its engineering program, made Texas A&M a great fit for Spencer. Outside of Spencer's summer project and school work, you can most likely find him working on his robotic projects, playing sports, or playing board/card games with his friends.
Fun Facts
Choice of Superpower: The power of manipulating magnetic fields to control magnetism and manipulate ferrous (magnetic) metal
Favorite TV Show: Sherlock
---
Written by Hannah McKelvey, 2017 Marketing & Communications Intern
---