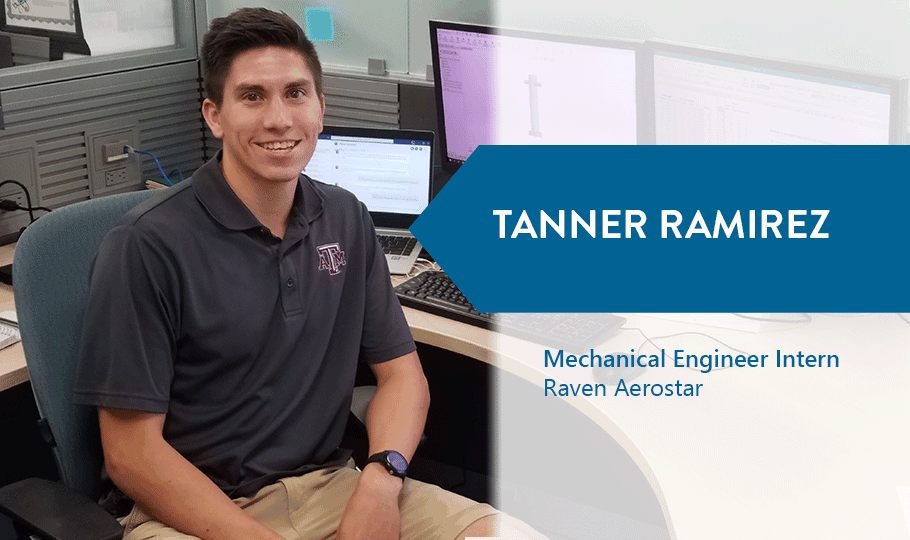 Meet Tanner
Reporting from our Sulphur Springs, TX location, Tanner Ramirez is spending his internship improving the safety and usefulness of Raven Aerostar's super pressure balloons. Conveniently, Tanner's hometown is Sulphur Springs, and he attends college at Texas A&M University, which is about 4 hours away. That's not too bad for the excellent education he is receiving.
Summer at Raven
For the most part, Tanner works independently, but not alone. He is currently tackling the task of developing a burst detection device, which was an open-ended challenge given to him by his mentor. Equipped with the end goal of integrating the burst detection device with super pressure balloons, Tanner was also given the freedom to reach this goal however he sees fit — allowing him to innovate and approach situations from unique angles that others may miss. Sometimes, Tanner builds and tests a prototype that does not work as well as he'd hoped. Working in a place where it's safe to fail is very important for true innovation to take place.
Tanner's mentor in Sulphur Springs is sometimes traveling, so he's not always a cubicle away. Tanner feels that not being able to immediately turn to his mentors when an issue arises really pushes him to improve and grow in resourcefulness. If at any point Tanner finds himself at a halt in progress, he will occasionally consult the internet for fresh ideas. Tanner explained that the online community can be a great resource to fuel innovation and creative thinking.
Keeping up to date with the engineering field around the world and keeping an open mind really adds a new dynamic to your work."
Earlier in the summer, Tanner was assigned with figuring out a way to get a timing mechanism to work consistently in subzero temperatures. At first, he was stuck, but once he performed some research, he discovered Lenz's Law, which seemed to be viable solution to his issue. In a prompt from his mentor, he was encouraged to broaden his search to commonly used items like viscous dampers. Though the dampers didn't help in the end, the action of seeking out a solution lead him to learn about certain mechanical components that he was unaware of; increasing his chances of solving future solutions which may require this kind of knowledge.
Having the drive to continue to better products, even if they already work, is imperative for a business to keep moving forward."
A lot of testing and planning goes into developing the burst detection device, which only adds to Tanner's knowledge of the business. By planning out product development tasks, Tanner must be considerate of his time, his budget, and his resources; organization is important and necessary to communicate within a business. Luckily, he is able to model his actions after the engineers around him.
I've learned how engineers fit into their work environment and how they apply their skills to a functioning business. It's a lot different from what you are taught in school."
Fun Facts About Tanner
Favorite Restaurant in Sulphur Springs: Juan Pablo's for its quesadillas
Favorite TV show: Cheers
Favorite Sport: Soccer, which he plays a couple times per week
Favorite Song: My Way, by Frank Sinatra
Runaway spot: Tanner said if he could run away to anyplace, it would be to the Maroon Bells in Colorado
---
Written by Dylan Ochsner, 2019 Marketing & Sales Intern

---