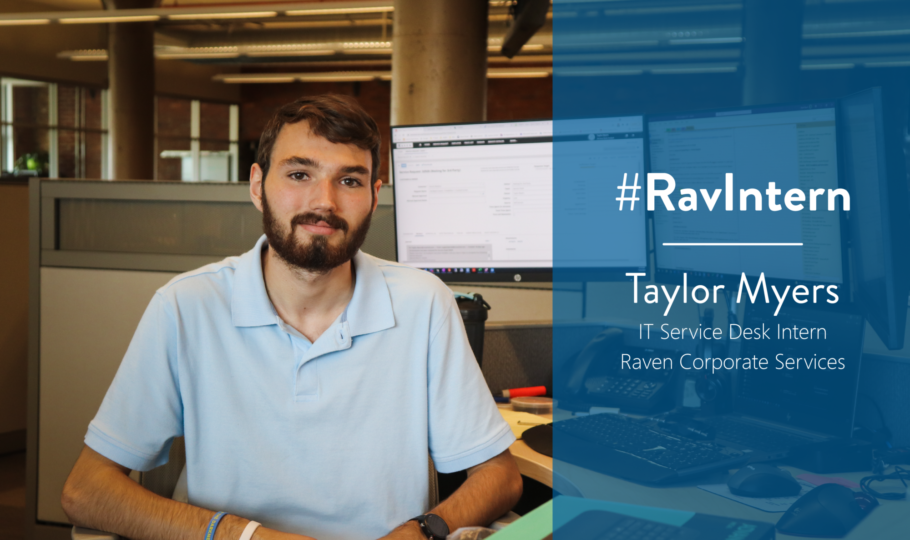 Meet Taylor
This summer, Taylor Myers has been working with Raven's IT Department as a Service Desk Intern. Taylor is going into his sophomore year at Dakota State University as he studies Cyber Operations. Throughout the summer, Taylor has been helping assist Raven Team members with any technology issues or IT requests they may have.
Taylor is studying Cyber Operations because he enjoys finding issues and problems and having to find the resolution to them. He also enjoys creating things, such as scripts, that can help solve an issue. He likes being able to help people solve their technical issues and finding solutions to these. Through the internship experience, he has learned a lot about serving others at any moment, no matter what he may be working on at the moment. He's learned a lot about time management, knowing that IT requests can come in at any moment. He's excited to continue learning and solving team members' greatest technology challenges.
Summer at Raven
During the summer, Taylor has been working at Raven's IT Service Desk. His typical day involves responding to team member's IT requests. This often requires him to find solutions to problems and issues with team members' computers or other technology they use. He also works on vulnerability tickets to ensure that Raven's network is secure and safe. The most challenging part of his internship so far has been encountering an issue that he or his team knows nothing about but knowing that they must work and fix it until they can solve the issue. This can become time-consuming and frustrating, but they have to find the solution to ensure Raven can continue to operate smoothly. Taylor has learned a lot about communication and how essential it is when working with a large team. There were often times when there was confusion on whether a project or request is under review or needs edits or changes. He learned a lot about having clear-cut communication to ensure everyone knows who's supposed to do what.
When asked which Dimension of Competition — Service, Quality, Innovation, or Peak Performance — stands out in his daily work, he said Service. Service is at the forefront of his role at Raven. Taylor's role at the IT Service Desk requires him to be of service to team members who have problems or issues with their technology. He enjoys being able to help people resolve their challenges and being of service to others.
The atmosphere and culture at Raven are one of a kind — team members are always going above and beyond."
Fun Facts About Taylor
Favorite quote: "I would rather try a shot to win than play safe and finish second."
Favorite outdoor activity: Running — Taylor runs for DSU in cross country and track
Best summer grill out food: Burgers
---
Written by Brandon Kjonegaard, 2021 Communications Intern, Raven Industries
---