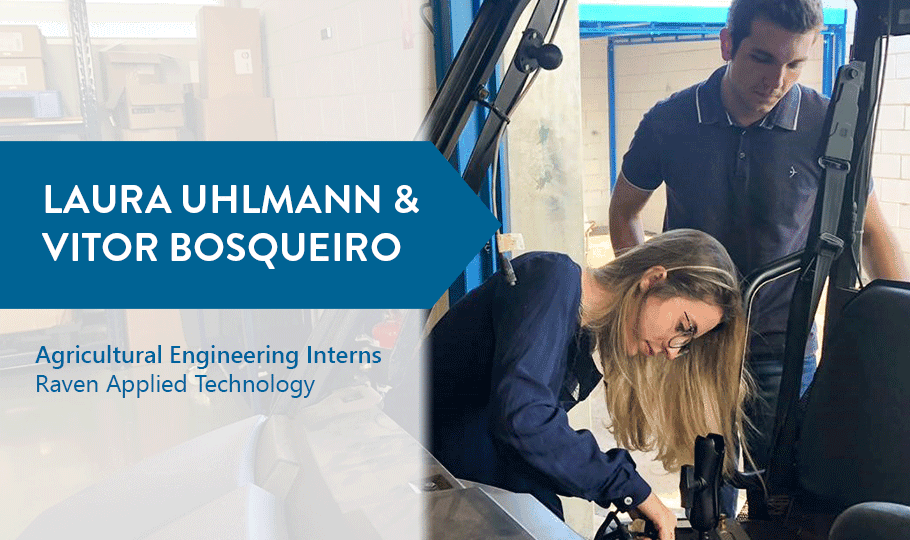 Meet Laura and Vitor
Vitor Bosqueiro is in his final year of the Agricultural Engineering program at the University of Campinas (Unicamp), graduating in December. Raised in a small town surrounded by small farmers of sugarcane, orange, and corn, he studied Agricultural Engineering because he feels that it is a great field to construct a career where he can contribute to the growth of his country, Brazil.
Laura Uhlmann, who will also graduate from Unicamp in December, has a family connection to precision agriculture. Since she was a kid, she remembers hearing stories from her grandmother, who would tell her childhood stories from living and working on a cotton farm. In her grandmother's time, most parts of the harvest were manual; because of this, she admires all the technology that farmers have today. Laura was inspired by these stories and this perspective to study Agricultural Engineering.
Laura and Vitor are interns within Raven Applied Technology, working with a lot of fellow Unicamp alumni on the Raven do Brasil team. Both are excited to be applying the theoretical knowledge that they learned in university to practical experiences, as well as learning more about the Raven values and culture.
Summer at Raven
Laura and Vitor began their internship at Raven do Brasil's headquarters with an intense week of training on Raven products. Precision Ag Specialist Vitor Higa introduced the duo to the Raven portfolio, demonstrating some equipment with the company's UTV to simulate how the products are used in the field. In addition, Laura and Vitor learned a little bit about the Raven values, Dimensions of Competition, and our overall purpose. Then, one week into their internship, they were on their way to the next adventure — beginning a month of training and experience at Raven Headquarters in Sioux Falls, SD.
I started the internship program at Raven a week ago and I noted the care for our learning. I am sure that we will learn even more during the training that we will have in Sioux Falls over the next month — not only on the products, technologies and solutions developed by the company, but also on the vision and values that make Raven stand out in the agricultural sector."

— Laura Uhlmann
While in Sioux Falls, Vitor and Laura participated in a variety of training opportunities in various areas of Raven Applied Technology, including (but not limited to) the following:

Learned about our technical training videos and how they are created.
Shadowed the technical service team, watching how the customers are helped and the tools used to do so.
Toured the Raven Applied Technology and Raven Engineered Films manufacturing facilities, and saw products in action at the Raven Innovation Campus.
Travel (for work and for fun): Laura and Vitor visited the Minneapolis, Minnesota area and recently reviewed a customer's Hawkeye® system in Kansas.
Attended the Raven North America Summit from July 17 – 18, where we welcomed 100 dealers, OEM partners, and ag retailers to Raven Headquarters and our Innovation Campus to interact with Raven team members and learn about the latest Raven innovations.
I attended the Summit for the whole week — it's an amazing event to learn and see the products working on the sprayers and tractors. We saw the new updates of Hawkeye®, Sidekick Pro™, Slingshot®, and AutoBoom® XRT. It was also a great opportunity to meet and talk with some dealers."


— Vitor Bosqueiro
Cultural Differences
When asked about some of the cultural differences that they have noticed between the U.S. and Brazil, both were quick to point out the food. Laura and Vitor are used to eating variations of rice, beans, meat, and salad for lunch. "Here, the meals are, in most times, burgers, pizza, and fried chicken," Vitor said. "We only usually eat burgers and pizza just on weekends," Laura added.
When it comes to work-related experiences, Laura and Vitor also pointed out that precision agriculture is approached differently in the United States than it is in Brazil. In addition to the different crops, soil, and machinery, a large cultural difference is that U.S. farmers are more acclimated to the technology, using it more widely. In Brazil, precision agriculture is a relatively new concept for farmers — and, in recent years, the Raven do Brasil team has experienced a large amount of growth as more farmers adopt Raven technologies.
---
Overall, Laura and Vitor have had a remarkable international internship experience so far, and they can't wait to share their experiences and continue their internship with the Raven do Brasil team in the coming weeks. They both mentioned that their outstanding experience was thanks in large part to the team members that they worked with, all of which have been very receptive and have helped them feel "at home" in Sioux Falls.
Upon their return to Brazil, Vitor will be working with Raven do Brasil's marketing team, while Laura will be focused on developing Raven do Brasil's training function with the Precision Ag Specialist group.