Meet Xiaoli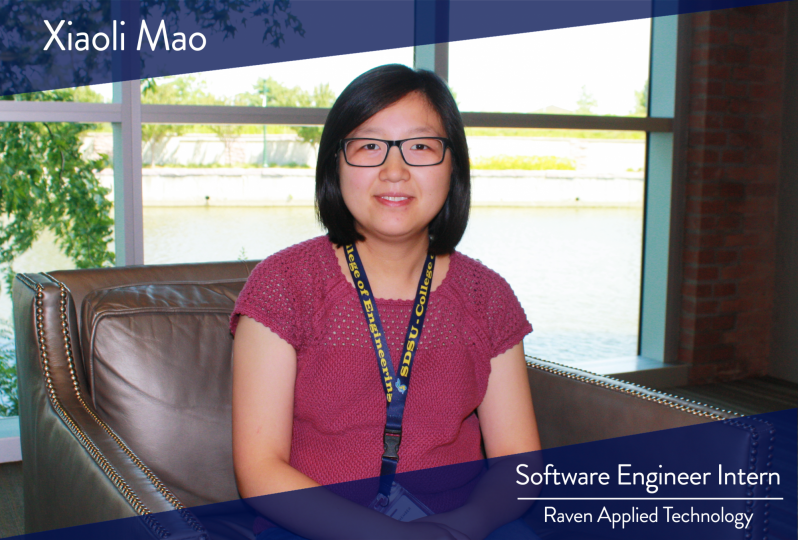 Xiaoli is a Software Engineer Intern who joined Raven Applied Technology for the summer. She earned her master's degree in Software Engineering from North Dakota State University, as well as her M.S. in Data Science from South Dakota State University.
Summer at Raven
This summer, Xiaoli has been working with the installation team to continuously update the Slingshot® website. Because new features are always being added to the product, it is Xiaoli's responsibility to modify and maintain the website as needed. By doing this, she will help Raven Applied Technology proactively meet the ever-changing needs of customers.
An internship at Raven has been an exciting opportunity for Xiaoli because she has been able to learn more about popular technology in the industry, and she has been able to work with a team on a large project. Xiaoli's favorite thing about Raven is the knowledgeable and intelligent team members that she has the opportunity to work with. According to Xiaoli, they are always very friendly, and she enjoys learning from her fellow team members each day at Raven. She believes that the Raven Internship Program is unique because she feels like a part of a team where her ideas are truly valued.
The Raven Value of Integrity is Xiaoli's strongest. She distinguishes herself from the rest by always remaining as honest and reliable as possible, no matter the circumstance. When it comes to quality, Xiaoli believes that it is crucial for products to be robust, be able to withstand any variations, and possess a friendly user interface that is easy for the customer to use and easy to learn.
More About Xiaoli
Originally from China, Xiaoli moved to Fargo, ND with her husband. She decided it would be a great opportunity to continue her education and enroll at NDSU. Xiaoli chose software engineering as her master's degree because she has always had a love for technology and previously worked for a software company. Some of Xiaoli's favorite hobbies include reading books and watching TBS TV shows like Modern Family or The Big Bang Theory.
Fun Facts
Choice of Superpower: Time Travel
Snack of Choice: Chinese Sunflower Seeds
Favorite TV Show: The Big Bang Theory
---
Written by Hannah McKelvey, 2017 Marketing & Communications Intern

---