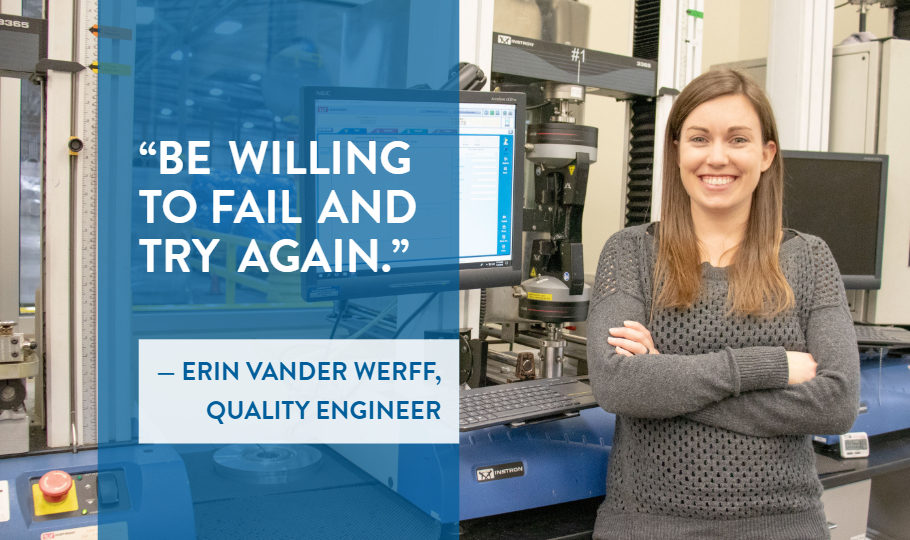 Jan. 9, 2019
This week's Women of Raven Spotlight is Erin Vander Werff, Quality Engineer for Raven Engineered Films.
Tell us about your education and job history.

I went to Iowa State University (go Cyclones!) and earned my degree in Mechanical Engineering. I had the opportunity to participate in internships and co-ops while in college which gave me great experience when I was applying for full time jobs. One of my co-ops was with Dow Chemical which turned into a full time offer. After graduation I moved south of Houston, TX to start my career with Dow and lived there for 5 years. My husband and I recently moved back to the Midwest in July 2017 to be closer to our families, which is when I applied for and accepted a position with Engineered Films at Raven in August 2017.
Tell us about your current role and responsibilities at Raven.
I am a Quality Engineer and have been working on Raven's Enterprise Resource Planning project (Project Atlas) full time since February last year. It has been a great experience for me and I have really enjoyed it! I have been working to set up quality processes, migrate quality specifications, and ensure the quality department is integrated in the processes of other functions in the new system. I have also had the opportunity to develop and facilitate training for other team members in the quality department.
How do you use math and science in your role?
Math and science are a big part of working as an engineer. You have to understand the fundamentals of math to be able to progress in science. And the science classes taken in school give the tools and confidence needed to solve problems in real world applications. I may not use Bernoulli's Principle every day, but understanding the fundamentals of the classes I took in college is critical in making decisions at work.
What inspired you to pursue this career path?
I had always enjoyed my math and science classes in school, but I hadn't really considered engineering until my high school physics teacher encouraged our class to pursue engineering if we enjoyed the class he taught. After considering other career opportunities, it seemed like it would be a good fit. I have also had an interest in sustainability and thought engineering would bring opportunities to make a positive difference in the environment.
What is the most rewarding part of your job?
I really enjoy being able to talk to other employees in production about issues or a problem they are having, and then being able to implement a fix to make their jobs safer, easier or more efficient. It is exciting and rewarding when a project or solution I have been working on comes to fruition and works as intended.
What advice do you have for young women who are currently pursuing or considering pursuing a career in a STEM field?
Use your skills and talents to your advantage whatever they may be. I have always really enjoyed working with people, and although many times technical jobs are not thought of as working with people, it is has helped me in my career time and time again by being able to clearly communicate and pull groups together to solve problems.
Be willing to fail and try again. Being an engineer means being willing to try new things, and many times those ideas won't work the first time. It can be hard to admit "defeat," but I have learned to admit mistakes and try again with a new approach, and that has been a huge key to success in a career in engineering.
It can be difficult to decide what career path to choose, so try and think about the things in school that make you excited. Sometimes math and science classes can be very challenging and not "fun" at times, but if you enjoy the feeling of solving a difficult problem or getting the question right in class, a career in STEM may be right for you. Most importantly do what makes you happy and if you're not happy, don't be afraid to step outside your comfort zone and make a change.
Find people who build you up and instill confidence. Ask them to mentor you! It can be challenging to start a career in a field that has fewer women, so finding someone that is willing to listen and share advice can be very beneficial when establishing yourself in a new major, career, or job role.

— Erin Vander Werff