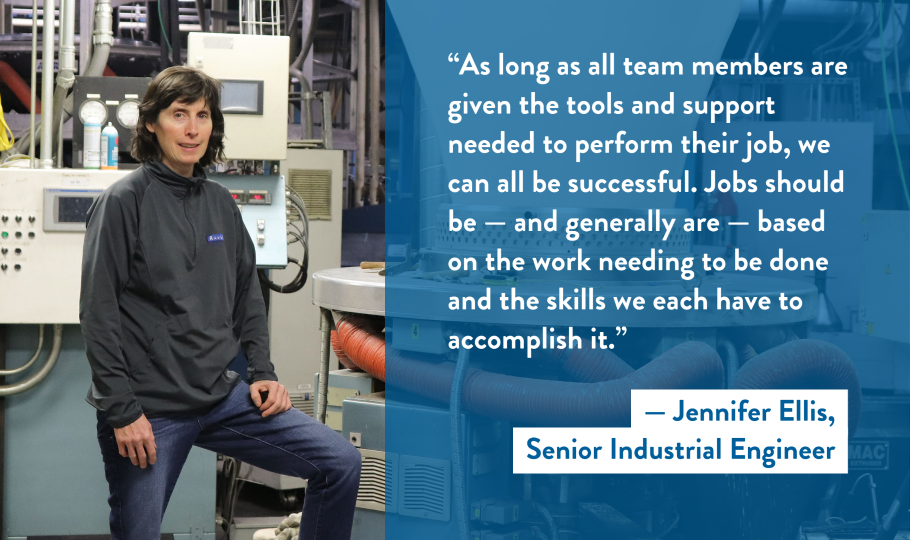 Throughout Women's History Month 2021, we are highlighting some of the Women of Raven who boldly solve great challenges and promote inclusion at Raven. This week's #ChoosetoChallenge Spotlight is Jennifer Ellis, Senior Industrial Engineer for Raven Engineered Films.
Provide a brief overview of your education and job history.
I have a B.S. in Mechanical Engineering from the South Dakota School of Mines & Technology (now SD Mines). I started at Raven Aerostar in 2010, where I assisted with new product introductions, including aerostats, protective wear, and stratospheric ballooning. I joined Raven Engineered Films in 2015.
Provide a brief overview of your current role and responsibilities at Raven.
I am a Senior Industrial Engineer. Our mechanical engineering team supports many areas within Raven Engineered Films, including budgetary costing; design and system setup of large service projects; system setup and support of new product introductions; setting and maintaining product standards; and many other process-supporting functions.
For you, what is the most rewarding part of contributing to Raven's mission to Solve Great Challenges?
The people working at Raven are outstanding and are the main reason we can achieve our mission. I so enjoy getting to know more about them on a personal basis.
"A challenged world is an alert world, and from challenge comes change." How do you #ChooseToChallenge biases and misconceptions in the interest of creating a more inclusive and gender-equal world?
I can honestly say that I have not run into too many issues with gender bias in my working career. As long as all team members are given the tools and support needed to perform their job, we can all be successful. Jobs should be — and generally are — based on the work needing to be done and the skills we each have to accomplish it.
What advice to you have for those wanting to embrace and uplift the women in their lives beyond International Women's Day?
Be supportive and willing to spend quality time with the important women in your life. Let them know you truly care. Open communication with positive feedback goes a long way.
What is one achievement you are most proud of?
I enjoy what I do and enjoy working for a respectful company that cares for its employees.