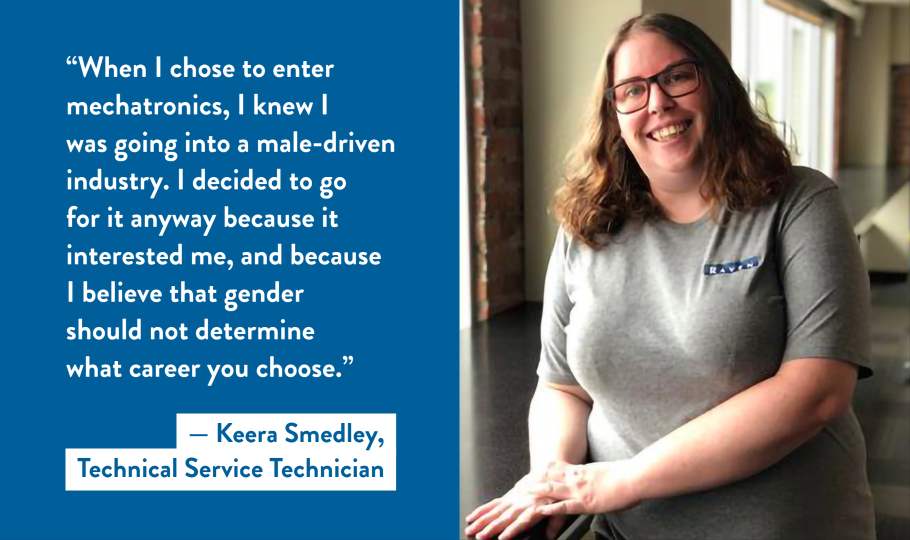 Throughout Women's History Month 2021, we will be highlighting some of the Women of Raven who boldly solve great challenges and promote inclusion at Raven. This week's #ChooseToChallenge Spotlight is Keera Smedley, Technical Service Technician for Raven Applied Technology.
Provide a brief overview of your education and job history.
Before joining Raven, I worked as a Gastrointestinal Technician at Sanford Health. While I was there, I started on my mechatronics degree, which prompted a move to Raven. I worked in manufacturing while going to school. Once I got my Associate's Degree in Mechatronics, I applied for a few positions within Raven before getting the Technical Service position. I turned down the role in the U.S. because I was moving to Australia — but, fortunately, I was then offered the Technical Service Technician position in Australia.
Provide a brief overview of your current role and responsibilities at Raven.
I am a Technical Service Technician for Raven in Australia. I answer calls from people experiencing issues in the field. I also go to dealers and original equipment manufacturers (OEMs) to help with installations and issues in the field. I do testing for our engineering team in the U.S. and I also do training for dealers. I do customer service support as well. So, a little bit of everything!
For you, what is the most rewarding part of contributing to Raven's mission to Solve Great Challenges?
I get satisfaction knowing that I am making people's lives a little easier. I usually talk to customers who are having a bad day — and most of the time, I can get them up and going again, making it a little better.
"A challenged world is an alert world, and from challenge comes change." How do you #ChooseToChallenge biases and misconceptions in the interest of creating a more inclusive and gender-equal world?
When I chose to enter mechatronics, I knew I was going into a male-driven industry. I decided to go for it anyway because it interested me, and because I believe that gender should not determine what career you choose. There have been some challenges. Before I got the degree, I was offered every job that I applied for. But there were times after that where, even though I had all of the qualifications they asked for, I couldn't even get an interview. Now, I do classes where I'm telling groups of men what to do, and I feel like I'm challenging gender stereotypes on a daily basis in our industry. I'm really proud of that.
What advice do you have for those wanting to embrace and uplift the women in their lives beyond International Women's Day?
Support women in your field, no matter what. Even if their goals seem far-fetched or they don't seem like they belong in that field, push them and help them to achieve their goals. Just keep trying and working hard, and don't give up. Women can — and do — work just as hard as men, and are a valuable contribution in this industry!
What is one achievement you are most proud of?
It's not really an achievement, but I was talking to one of our customers who was telling me about his son. His son was saying how girls "aren't capable of certain things," and was generally being a bit sexist. Our customer used me as an example of how girls can do whatever they want. I like thinking that the way I live my life may have changed the way that people think about women in our industry.
Is there anything else you'd like to add?
When I started, I thought that I would have to adjust to working in a male environment. I thought that I would be treated differently. But at Raven, I have never felt that. I was just a part of the team, and gender didn't matter — which is all you can ask for in a workplace.