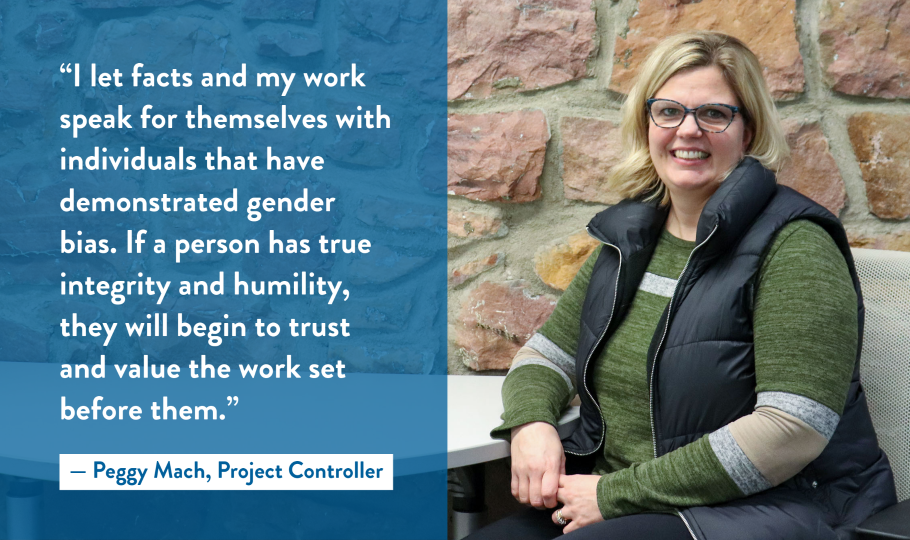 Throughout Women's History Month 2021, we will be highlighting some of the Women of Raven who boldly solve great challenges and promote inclusion at Raven. This week's #ChooseToChallenge Spotlight is Peggy Mach, Project Controller for Raven Aerostar.
Provide a brief overview of your education and job history.
After my three years active in the U.S. Army, I attended and graduated from the University of South Dakota as a non-traditional student with a bachelor's degree in Business Management. After graduation, my career started as a Unit Manager at Citibank. Through the course of 10 years, I helped automate many areas of a completely manual department, created management information systems (MIS) reports for the department, established a new business unit to help manage issues for our division, and was a project manager. During the 10 years prior to joining Raven, I was a Project Controller/Business Analyst and backup to the Business Manager for the prime contractor at EROS Data Center near Garretson, SD.
Provide a brief overview of your current role and responsibilities at Raven.
I am a Project Controller II for Raven Aerostar. As a Project Controller, I work closely with the engineering managers and leads, flight operations, program managers, division controller, contracts, procurement, human resources, team members, and compliance on all different aspects of projects. My responsibilities include project planning, creating work breakdown structures, analyzing project costs and expenses, forecasting, creating purchase requisitions, and helping provide project data.
For you, what is the most rewarding part of contributing to Raven's mission to Solve Great Challenges?
The most rewarding part for me is utilizing my analytical and issue resolution skills to help drive change and results. This includes helping in areas that are not directly related to my Project Controls role and responsibilities. The processes and steps that I have helped to create have been successful in helping our team to meet our mission objectives and drive adherence to government compliance, which is critical as we grow and mature in government contracting.
"A challenged world is an alert world, and from challenge comes change." How do you #ChooseToChallenge biases and misconceptions in the interest of creating a more inclusive and gender-equal world?
I let facts and my work speak for themselves with individuals that have demonstrated gender bias. If a person has true integrity and humility, they will see that their misconception has hindered their ability to drive results, and they will begin to trust and value the work set before them.
As for myself, I try to cultivate environments where people are respectful, can speak freely, and drive for results without fear of repercussions based on status or gender.
What advice do you have for those wanting to embrace and uplift the women in their lives beyond International Women's Day?
My advice would be to ask yourself, if you were provided the same information from a man in the same position, would you question or discount their statements or work? Then ask yourself to weigh a person's work on their merit, not on your perception. Lastly, I would provide the advice to uplift women — and not only women, but everyone: be honest and respectful with them during the good and bad. Not everyone has the same strengths, so appreciate and utilize a person's strengths. I would also encourage a person to work on their weaknesses by providing them with examples and sound advice. People respect those who are willing to acknowledge and invest time in them.
What is one achievement you are most proud of?
The achievement that I am most proud of is always being true to myself, as no one can take my integrity away from me. I have received recognition:
In the Army: two Army Achievement Medals
At Citibank: Outstanding Performance and Innovation Award
At Raven: Monthly team member spotlight with a group of two other women
The recognition was for specific actions that I am proud of. However, it is the fact that I did not let gender biases or misconceptions stand in my way of performing at an outstanding level with integrity that make the recognition special.
Is there anything else you'd like to add?
There are biases and misconceptions toward both women and men. My hope for everyone is that you are able to look inside yourself and determine what you can do to adjust your way of looking at another person, and determine how you can create an environment that is based on respect and honesty.