'Tis the season for family, gift giving, and cherished traditions! Raven team members share their favorite holiday traditions and reflect on the moments that make this season so special. From childhood memories to current traditions, these stories reveal the love and care behind gift giving, decorating, and — most importantly — spending time with loved ones. 
---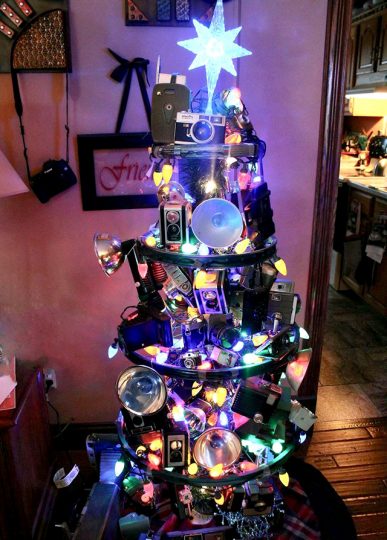 Kathy Hallberg
Pre-Production Coordinator 
Two years ago, my husband, Matt, and I were looking for something unique for our Christmas tree. We didn't want a big tree because our boys are out of the house and living away from home. Outside of the store was a bicycle tree that I thought would make a unique Christmas tree. I decorated it by stringing lights on it, and I added an angel to the top.
After Christmas was over, I had the idea of using the tree to display my old cameras that I collect, and it turned out great. I decided to add lights to this, too, and then added a star at the top. I had to find a tree skirt that I thought was okay for year round to put beneath it. Occasionally I plug it in, and as Christmas approaches, I will have it lit more often.
---
Lolita Verhoek 
Electronic Assembler
Growing up in the Philippines, we were limited on decorations. We had Christmas lights and a homemade tree. We celebrated Christmas and the new year by eating, singing karaoke, and watching fireworks with the relatives that lived close to us. Hugs and greetings were usually our gifts to one another.
That was 18 years ago. Now that I have my own family, we carry the same traditions, along with celebrating the birth of Jesus Christ. I am not so much for decorations, but I've always wanted to have a fresh Christmas tree, which we have every year. My kids decorate it and we place Christmas lights around the house.
---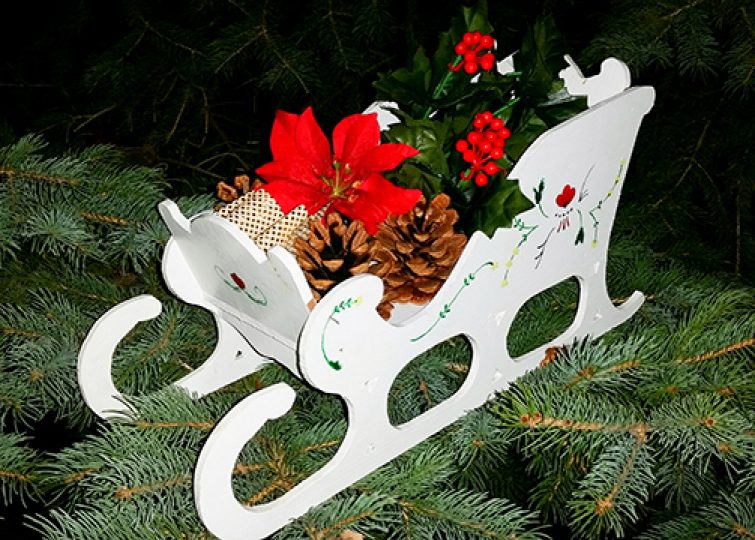 Pam Riedlinger
Production Coordinator 
Growing up, my mom taught my sister and me how to sew and craft. For us, Christmas was always a time to get creative. I remember many years of making handmade ornaments and decorations for our home. Dad would also help us out and do a little woodworking for our projects. 
Years later, when I had a home of my own and young children, Dad used his woodworking skills to make me this little sleigh, and Mom painted it. Dad has been gone for more than 25 years, but every year when I decorate for Christmas I cherish it, remembering him and all the creative fun we had growing up.
---
Doug Lunn
Sales Specialist
Our tradition every year is to decorate early for Christmas. We pick an evening and decorate as a family. We watch a Christmas movie and have a Christmas snack. This has been a tradition for 20 years. This year was a hard one, as our daughter (only child) got married and our tree decorations are mostly memories from school projects, ornaments bought on vacation, or collectibles such as Tim Hortons® or Coca Cola® ornaments. Hanging many of these decorations brought back a flood of memories. It reminds us how blessed we are as a family. We will spend our Christmas season reflecting on God's gift to us and how we can be a blessing to others throughout this season and next year.
---
Brian Carda
Plant Manager
My wife and daughter put together all the Christmas decorations. I can't take credit for any of it. We typically have three or four trees each year. The one thing that I am proud of is my Santa picture that I painted a couple years ago... never knew I was so talented! The painting usually doesn't make the main floor display in my house.
---
Trevan Korthour
Financial Services Coordinator
For the past eight years on Christmas morning, my family has always watched the movie, The Christmas Story. In the movie, the family's Christmas dinner gets ruined by a pack of dogs, so they have to go out to eat for supper. The only restaurant that is open on Christmas day is a Chinese restaurant, so the family ends up eating their Christmas supper at the Chinese restaurant.
My family replicates the movie by going to the local Chinese buffet in our hometown of Watertown, SD for lunch on Christmas Day. People think my family is crazy, but it has grown into a tradition, and a funny one at the least. It does not matter if you have a fancy supper or lunch, but what really matters is that you are surrounded by family and loved ones. That is what the holidays are all about.
---
Peggy Canter
Senior Talent Acquisition Specialist
Like many others, Christmas is my favorite holiday of all. Because my extended family lived in Central America, most Christmas holidays were spent with just my immediate family. We didn't get to enjoy the large family gatherings, but it made me appreciate and cherish my family that much more. Decorating the tree was something that my siblings and I enjoyed doing with Mom and Dad. Mom always had a hodge podge of decorations on the tree. It drove me crazy!
Today, I carry on the tradition of decorating the trees as a family with my kiddos. But, of course, my tree has a theme. I've also added to this tradition by placing a tree in each of my kids' bedrooms. This is the tree that Santa leaves his gifts under while they sleep at night. Christmas morning, they open their eyes to a stocking full of goodies and a gift from Santa.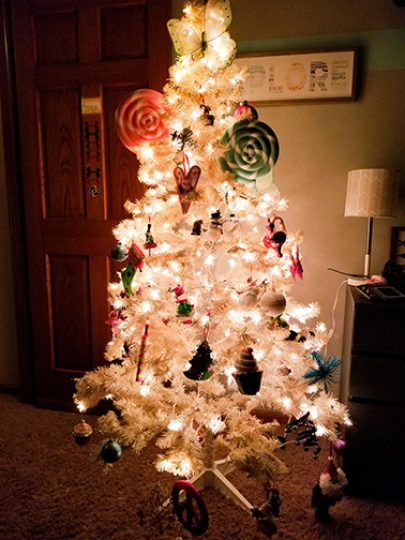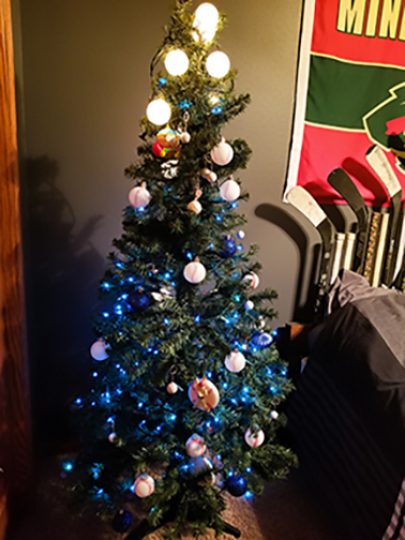 ---
These stories remind us of the true reasons for the season. The values that reflect the holiday season can be carried throughout the new year. As 2018 approaches, we continue to focus on the Raven core values; Integrity, Authenticity, Courage, Service, Humility and Drive. These long-held principles guide us in setting new goals and help us positively impact our world.
Wishing you and your family a happy holiday!
— The Raven Family