A huge perk of being a #RavIntern is that there are many current team members who also were interns — and willing to help you make the most out of your experience!
At one of our interns' Business Learning Sessions in May 2019, we hosted a panel of four current Raven team members who are #RavIntern alumni, and asked them to share a little bit about "making the most out of your internship." Here's who they are, and what they had to say:
Meet the Panelists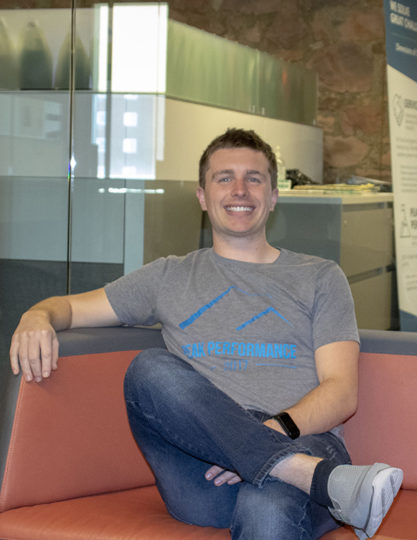 Riley Hosman started at Raven as an Electrical Engineering Intern, working on the Viper® 4+ internal messaging/inter-processor communication. He remarked, "Much of my code ended up making it into the final product, which was really cool as an intern!" His favorite memories as an intern were eating lunch on the rooftop patio with the other interns and seeing all of the projects at the end-of-summer intern presentations.
Today, Riley is a Design Engineer for Raven Applied Technology, working on the same hardware engineering team and developing new products.
---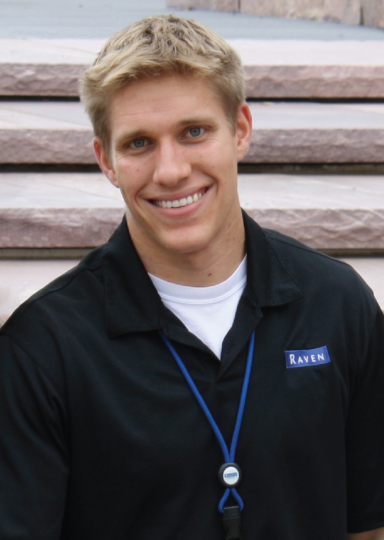 Adam Halverson was an Electrical Design Engineering Intern, focusing on the design, fabrication, and testing of new prototype systems within Raven Applied Technology. His favorite internship memory involves testing his prototype of an AutoBoom NextGen control system, which a fellow intern agreed to help him test: "The remainder of that day consisted of clinging to the rails of a sprayer while we torture-tested this new controller. When the dust had finally settled, my laptop showed that the results gave a stability & performance improvement well above project objective. The culmination of late nights and hard work paid off just as the sun set on my last hour in Applied Technology – a great capstone to a great experience."
Today, Adam is an Embedded Software Engineer within Raven Aerostar, after pursuing a Master's degree in Electrical and Computer Engineering post-internship. He works on the control and communication systems operating the Thunderhead Balloon Systems.
---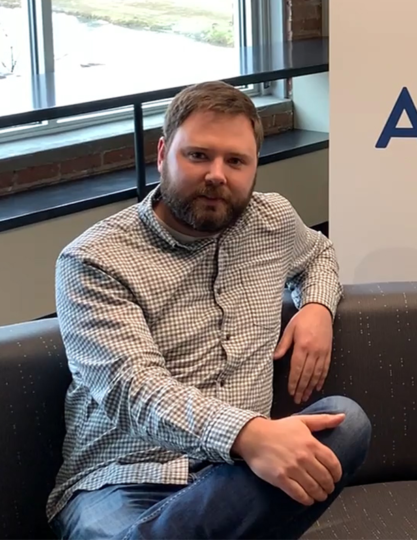 Andrew Leach worked as an intern at Raven for two summers. His first year, he worked on a database to hold product run and blend information for our blown film extrusion lines. This was intended to make it easier to maintain, update, and access relevant information for the process team and operators on the floor. In his second year, he overhauled our maintenance inventory system, integrating it with our work order and preventative maintenance systems to make it easier to evaluate costs and recognize recurring issues around the plant. "Both projects gave me great exposure to the manufacturing process at Raven Engineered Films," Andrew commented.
Currently, Andrew is a Manufacturing Engineer for Raven Engineered Films. He works on projects to improve operational efficiencies between our seven Films facilities; create parts and drawings for our custom fabrication; maintain blends, structures, and routes for our product lines; and occasionally work with customers on product needs and development initiatives.
---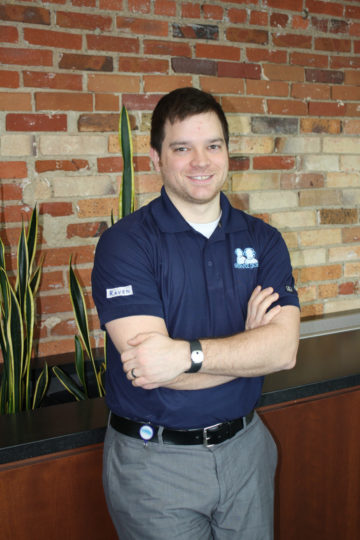 Travis Hamilton worked as an IT Service Desk Intern, providing technical hardware/software support for the company. He worked on a handful of different IT security projects; helped coordinate and move a lot of team members' computer equipment during the Downtown HQ building remodel; and smashed and recycled a lot of boxes. "There were a lot of good memories, but I knew it was going to be a solid internship when, in my first week on the job, the then-CIO tasked me with installing a mini-basketball hoop on the old wood beam pillars. The catch was that I could not drill into them or damage them in any way."

Currently, Travis is a Business Systems Analyst working on our company-wide ERP software implementation project. His main role is to understand the new software and help Raven implement and improve its processes in the new system.
Advice for Current and Future #RavInterns
How did you make the most out of your internship?
I tried not to be afraid to reach out of my comfort zone to learn a new concept. The things you learn at your internship will be some of the most important things you'll learn throughout your college education!"


— Riley Hosman
I realize this now more than I did at the time — I made the most out of it by observing my superiors in how they approached complex problems and leveraged their own strengths was significant in my growth as an engineer. There's no replacement for wisdom gained from experience, and I continue to learn from the talented individuals around me to this day."

— Adam Halverson
I tried to expose myself to as many different departments and positions as I could to really learn where I excelled, and what path I wanted to take for my career."


— Andrew Leach
I made the most of my internship by understanding that every day is an interview. Coming to work every day, intern or not, you have the capability of making a difference. If you come with that mentality, you will make an impact and make the most out of your internship no matter what."


— Travis Hamilton
What pointers do you have for current and future #RavInterns?
Start a notebook on day one (or as soon as possible) and write down instructions, to-do items, file paths, peoples' names, etc. It will save you a lot of time later! Also, spend a little time with the other interns — it is fun to get to know them."


— Riley Hosman
Dig in — pursue the problems that intimidate you until they no longer do. Few experiences will grow you more than overcoming an obstacle you once thought too difficult to tackle."


— Adam Halverson
Don't be shy — Raven has so many resources to offer between our business units. The experience level of our team members is top-notch. If you are unsure about what path you want to take, or just curious about a certain segment of the business — shoot an email, setup a meeting, or inquire with those around you about where you can learn more."


— Andrew Leach
Challenge and question — you bring unique perspectives and experiences that only you have. Just because you are an intern and the company has done something that way for years doesn't always mean it is the best. Use your experiences to help look at a challenge in a different way. You never know what you might uncover thinking outside of the box."


— Travis Hamilton
#RavIntern Alumni
We have many more team members within the company that were interns — all the way up to the CEO! Here's the full list:
| | | |
| --- | --- | --- |
| Name | Internship Hire Year | Current Job Title |
| Daniel Rykhus | 1990 | President & CEO, Raven Industries |
| Sarah Waltner | 2001 | General Manager, Raven Applied Technology |
| Jon Meyer | 2004 | Program Manager II, Raven Applied Technology |
| Nick Michael | 2004 | Staff Design Engineer, Raven Applied Technology |
| John Gaard | 2006 | Test Engineer, Raven Applied Technology |
| Chris Cornell | 2007 | Engineering Technician II, Raven Applied Technology |
| Brandon Anderegg | 2007 | Test Engineer, Raven Applied Technology |
| Steven Tims | 2008 | Director of Operations, Raven Engineered Films |
| Brandon Roth | 2010 | Project Engineer, Raven Applied Technology |
| Jeremy Puepke | 2011 | Designer II, Raven Applied Technology |
| Chris Weyer | 2011 | Senior Industrial Engineer, Raven Applied Technology |
| Lisa McElrath | 2011 | Communications Manager, Raven Industries |
| Neal Petersen | 2011 | Production Supervisor II, Raven Applied Technology |
| Alex Weidenbach | 2012 | Engineering Team Lead, Raven Applied Technology |
| Erin Rinehart | 2012 | Business Support Specialist, Raven Applied Technology |
| Travis Hamilton | 2013 | Business Systems Analyst I, Raven Industries |
| Luke Pucket | 2013 | Engineering Team Lead, Raven Applied Technology |
| Andrew Pierson | 2013 | Software Engineer, Raven Applied Technology |
| Joe Beck | 2013 | Plant Manager I, Raven Aerostar |
| Adam Halverson | 2013 | Software Engineer, Raven Aerostar |
| Riley Hosman | 2013 | Design Engineer, Raven Applied Technology |
| Nicole Westerman | 2014 | Software Engineer, Raven Applied Technology |
| Drew Waltner | 2014 | Senior Software Engineer, Raven Applied Technology |
| Mathew Roy | 2014 | Trainer III, Raven Applied Technology |
| Koby Jackson | 2014 | Software Engineer, Raven Applied Technology |
| Chris Rallis | 2014 | Engineering Team Lead, Raven Applied Technology |
| Andrew Leach | 2015 | Manufacturing Engineer, Raven Engineered Films |
| Andrew Stelter | 2016 | Software Engineer, Raven Applied Technology |
| Tyler Panek | 2016 | Software Engineer, Raven Applied Technology |
| Tanner Virchow | 2016 | IT Software Developer, Raven Industries |
| Riley Jurgensen | 2017 | Technical Service Specialist II, Raven Applied Technology |
| Sean Turgeon | 2017 | Program Manager I, Raven Aerostar |
| Tyler Russ | 2017 | Software Engineer, Raven Applied Technology |
| Kari Pulli | 2017 | Design Engineer, Raven Aerostar |
| Zachary DeJong | 2018 | Manufacturing Engineer, Raven Applied Technology |
| Kyle Dowling | 2018 | Test Technician I, Raven Applied Technology |
| Isaac Citrowske | 2018 | IT Administrator, Raven Industries |
| Eric Schmid | 2018 | Product Development Engineer, Raven Engineered Films |
| Merritt Rysavy | 2018 | Design Engineer, Raven Aerostar |
| Brady Buck | 2018 | Test Engineer, Raven Applied Technology |
| Bruce Bolkema | 2018 | Buyer I, Raven Applied Technology |
| Isaac Rath | 2018 | Software Engineer, Raven Applied Technology |
| Felipe Oliveros | 2018 | Inside Sales Representative, Raven Applied Technology |
| Ashley Hellwig | 2018 | Tax Accountant I, Raven Industries |
| Anna Gaspari | 2018 | Marketing Specialist, Raven Aerostar |
| Jonathan Mathews | 2018 | Software Engineer, Raven Applied Technology |
| Evan Tarrell | 2018 | Software Engineer, Raven Applied Technology |