At Raven, we compete every day on four Dimensions of Competition: Quality, Service, Innovation, and Peak Performance. These Dimensions are an integral part of our business strategy, as well as our culture, and each month, we recognize team members that demonstrate excellence in the Dimensions. Joe Ryan, Sales Specialist, is April's Team Member Spotlight winner.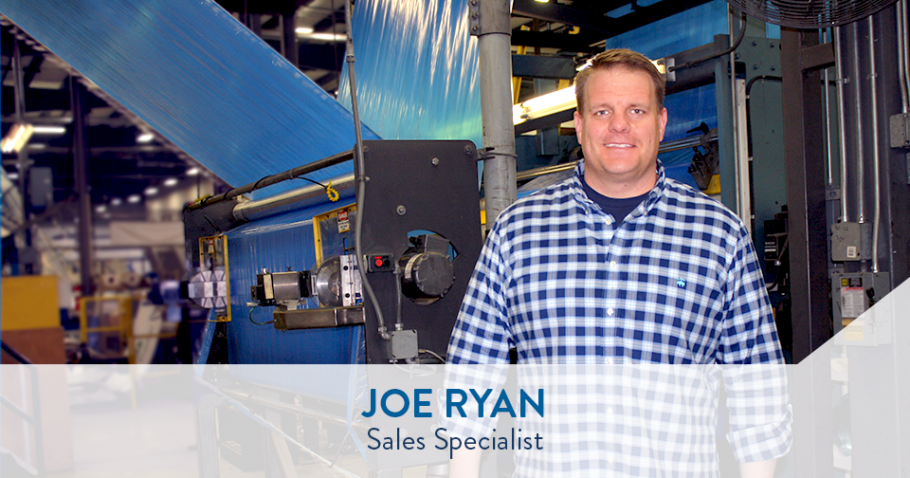 Awarded for Excellence in Peak Performance
For Raven, Peak Performance is our commitment to prepare ourselves as individuals as well as a corporation to be our best. We believe in continual improvement in all aspects: Mind, Body, and Spirit. In the last year, Joe has truly shown what it means to commit to Peak Performance.
He has made changes to his diet and committed himself to a much healthier lifestyle along with a healthier work/life balance. He never misses a chance to hit the gym, even when traveling to help grow the top line and the profit in his sales role for Raven Engineered Films. He was also a great influence on his team members in Engineered Films while leading an internal weight loss initiative and reminding the team to take stretch breaks to help relieve stress.
His personal changes have also shown up in tangible results for the company. Joe led the charge managing customer relationships when Raven Engineered Films provided film to assist with hurricane recovery efforts. His efforts were instrumental to the success of delivering this critical product to those in need.
Joe is a great role model for all of us when it comes to Peak Performance and how it leads to success in many ways.

— Bart Brown, Director of Sales