At Raven, we are always looking for ways to innovate and continuously improve. Raven Engineered Films' Machine Operator Jonathan Juarez and Machine Technician Alex Guerra, while receiving training on new manufacturing equipment, recognized an opportunity to update a process. As a result, the team continues to save significant amounts of time and resources. Congratulations, Jonathan and Alex, on being named our December Team Member Spotlight winners!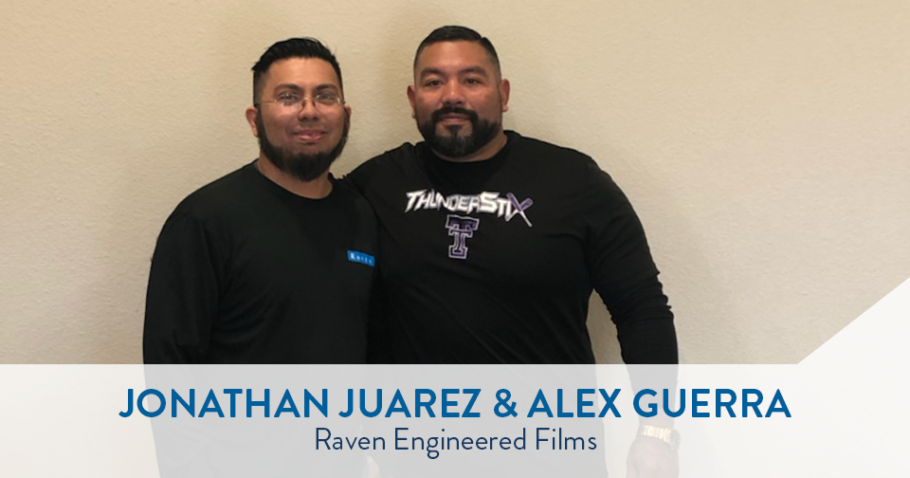 Awarded for Excellence in Innovation
The Raven Engineered Films location in Pleasanton, TX, recently acquired the Folder, a large piece of manufacturing equipment, from the Sioux Falls facility. As the Pleasanton team was being trained on the transfer procedure, they realized the process could be improved and streamlined. In particular, the existing process caused a loss of tension that was needed to produce a quality start-up on the new roll.
Alex and Jonathan took it upon themselves to use their prior sealing knowledge to find a solution that would keep tension on the roll during transfers. They used the Demtech Pro-Wedge Welder to attach the end of one roll to the start of another. This cut the transfer time down considerably, saving 48 feet of both double-sided tape and normal tape per transfer. The seal was done in less than 20 seconds. The team was then able to keep the high tension needed for roll quality for the start of the new roll.
Alex and Jonathan, great job — way to think outside of the box and challenge an existing process to come up with a safer, quicker, and more reliable process!