Congratulations to Mary Rodenborn, Randy Elbers, Kwen Peterson, and Brent Schavee, our December 2021 team member spotlight winners! They were recognized by senior leadership for their above-and-beyond efforts to bring Atlas — our new company-wide ERP system — to go-live in Raven Applied Technology. All four of them, deeply committed to the Raven Values, understood the importance of a connected ERP software and dedicated themselves to providing a high-quality solution in a timely manner.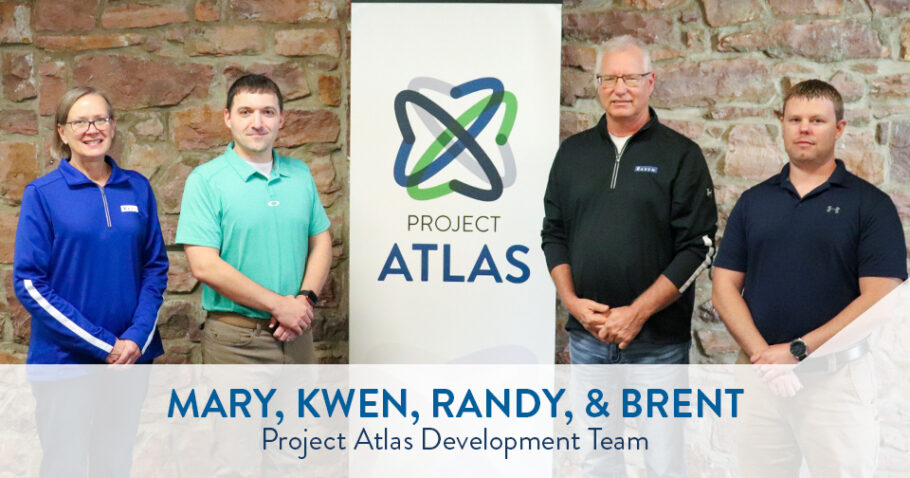 Throughout the course of this project, the entire IT development team put in heroic efforts. Everyone dedicated long hours of outstanding service and quality support to ensure that Raven's commitment to streamline and modernize our business software platform was successful. Looking back on the overall project, Mary, Randy, Kwen, and Brent each played critical roles in driving the final Go-Live to completion — transitioning our processes from the old system (AS400) to the new system (Atlas).
Transitioning from AS400 to Atlas
Transitioning to Atlas meant that millions of data line items needed to be transferred from AS400. As the leads on the AS400 side of the project, Mary and Randy processed each individual order and transferred them to the new system. "This was quite a mountain to climb," Anthony remarked. It took two weeks of effort due to processing time and required a deeper level of understanding our business. If a given department found issues when validating the data, Mary and Randy had to know how to operate in the minds of their customers — understanding why it didn't work, how it didn't work, and finding solutions to make it work. This required a tremendous amount of patience — for example, Randy had a 45-minute brainstorming meeting with a team member, then provided a solution the next day. "They don't just stop when the meeting stops," Rebecca noted. When all was said and done, Mary and Randy migrated thousands of customer orders to the new Atlas system.
Our customer order capture system also needed to be migrated to the new system. Randy worked with Kwen and General Accounting Manager Danelle Kamnikar to develop a new standardized system that can be used across divisions. The new automated system will increase the flow of systems in a timelier manner. This supports why Atlas was so important — the new system streamlined and simplified processes across the company.
Leading a Successful Implementation
Kwen and Brent inherited leading Project Atlas while also dealing with a team that was missing a few people. They progressed to leading the conversion of Applied Technology's conveyor system — one of the most critical pieces of the puzzle for the division. The conveyor system is the lifeblood of our production process, ensuring that each complex product flows through manufacturing in the right order of operations. Without it, we could not have gone live. Kwen and Brent were tasked with managing this in addition to their regular workload.
The dynamic duo figured out how to split it up, figure out how the system works, and program it accordingly. This was an arduous process that involved spending a few weeks in production — disconnecting it from AS400, connecting to Atlas, testing all day, then reconnecting to AS400. This required a lot of collaboration between Kwen and Brent, the division, and the rest of the IT department.
I knew that, when Brent and Kwen said we were going to be ready for Go-Live on-time, they would be ready to go live. It was truly remarkable what they were able to accomplish."

— Rebecca DeGroot, Project Manager
Dedicated to the Raven Values
Looking at Mary, Randy, Kwen, and Brent's efforts — which were among so many outstanding achievements from the Development team as a whole — their drive, leadership, and service ensured that Atlas met Raven's critical need for a consolidated and streamlined ERP system.
The fact that they just stepped up and knew how important this was to the organization and the success of what we do shows commitment to the Raven values. They had the courage to say "no' to some things in order to meet these other deadlines. They also dug in, committed, and delivered."

— Anthony Schmidt, Executive Director of IT and Facilities
Thank you, Mary, Randy, Kwen, and Brent, for going above and beyond to develop a high-quality system that impacts all areas of the Raven business!