Congratulations to Kevin Coyle, Raven Applied Technology Production Supervisor, our January 2022 Team Member Spotlight winner! Kevin's leadership presence and skills are recognized by his team members, and his positive attitude helps create a welcoming and efficient work environment.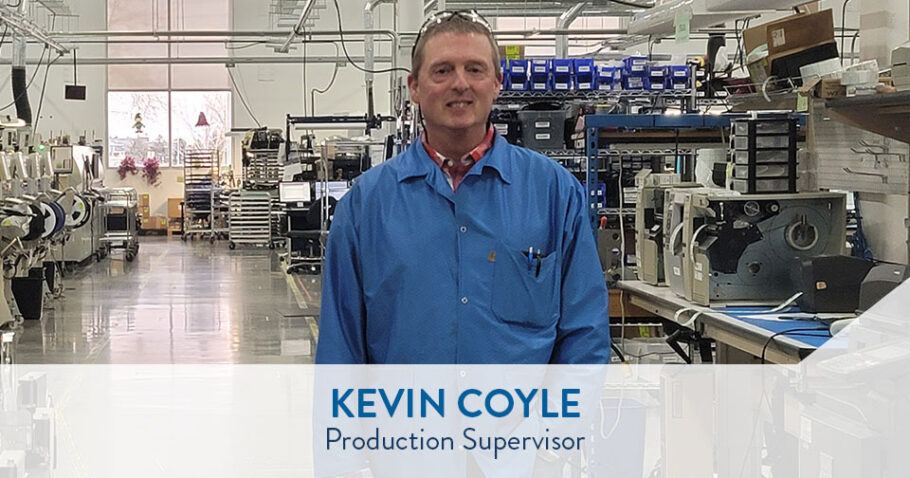 As a Production Supervisor of Raven Applied Technology's Product Center 05 (PC05) team, Kevin works hard to direct, supervise, and coordinate production within the division. By overseeing production, Kevin helps ensure that the division creates the highest-quality products. He monitors systems and team members to ensure that the division operates smoothly and efficiently.
Kevin is known for his passion for service to both team members and customers, and he leads with optimism and modesty. He's known for sharing credit with his team members and believes that the results they create are truly the product of teamwork. These qualities make him a valuable leader.
"Kevin cares so deeply about Raven and possesses a leadership presence that is very inspiring. He creates an environment where his team and everyone around him wants to make things happen and 'win' at delivering the highest quality products. Kevin truly cares about Raven and his team, and he is always looking for unique ways to develop the people around him to make them and Raven stronger."

— Emily Wegner, Plant Manager, Raven Applied Technology
Kevin and his team have worked hard to find ways to continue to solve challenges during the business unit's supply constraints, from working outside regular hours to increasing flexibility within the plant. Kevin's years of service at Raven and his dedication have made him knowledgeable in the business, and he uses these skills to help create results each day. By ensuring that his team understands the constraints that they are facing, he works with them to find a solution. Without hesitation, as Plant Manager Emily Wegner noted, they "always find a solution by flexing their talents or time to meet the challenge, without an ask."

"Kevin is the epitome of a servant leader. Any acknowledgement of his excellent performance he has deflected to his team. Kevin and team have had to be extremely flexible due to electronic component availability but have consistently risen to the challenge."


— Chris Wagner, Director of Operations, Raven Applied Technology
Thank you, Kevin, for your commitment to solving challenges and serving the Raven team!