Outstanding service is essential to our success at Raven. We are focused on understanding, anticipating, and delivering on the needs of those around us. Kevin Gardner, Shipping Coordinator for Raven Engineered Films, showed this commitment by volunteering his time, recognizing a need, and solving challenges in order to deliver on a large order for a customer. Congratulations, Kevin, on being named July's Team Member Spotlight winner!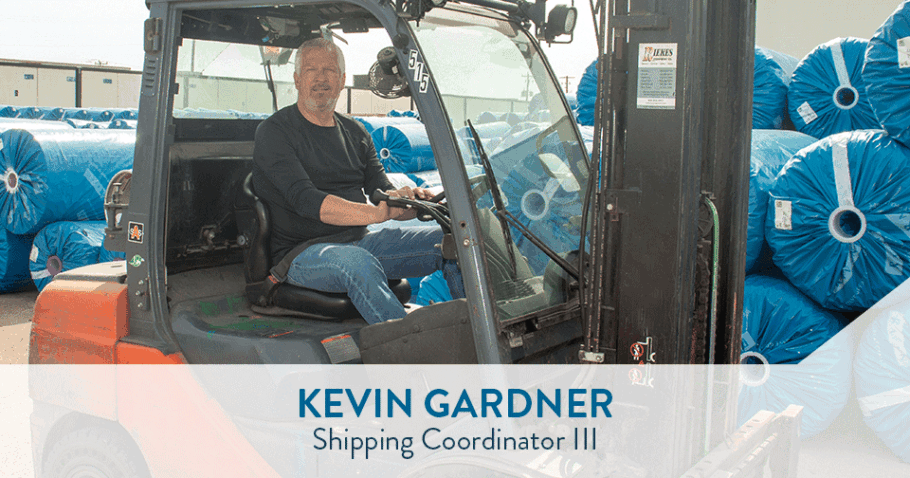 Awarded for Excellence in Service
One of Raven Engineered Films' very large customers was experiencing a surge in demand, and desperately needed a truck of our Ziliant™ PP450 Material delivered on a Monday. However, the material that they needed was not ready to ship by Friday. Kevin volunteered to come in at 6:00 a.m. on a Saturday — which is not a scheduled shipping day — to stage the material for a truck that was scheduled at 8:00 a.m. that same day.
After waiting an hour and a half past the scheduled pickup time, Kevin was advised that the trucker was stuck near Omaha. Realizing the need, Kevin worked with Sales Manager Rod Aasheim and our transportation department to find another truck in or near Sioux Falls. They found one, and she called at 10:30 a.m. to let them know that she was close, but lost. Kevin chased the lost driver down the street in a forklift and eventually got her attention. He directed her to the dock, loaded the truck, and got all necessary documentation completed. These efforts saved our customer a full day of production and saved Raven Engineered Films a large amount in sales.
He spent half of his day off and didn't complain at all. I was a little disappointed that he didn't let me drive the forklift, but it was a great learning experience for a sales guy to see what it takes just to get one truck out. Many thanks to Kevin and the entire transportation team."

— Bart Brown, Director of Sales, Raven Engineered Films