At Raven, Peak Performance is our commitment to prepare ourselves as individuals as well as a corporation to be our best. Aaron DeBates, Master Scheduler, exhibits his commitment to this value in all aspects of his work. Congratulations, Aaron, on being named this month's Team Member Spotlight winner!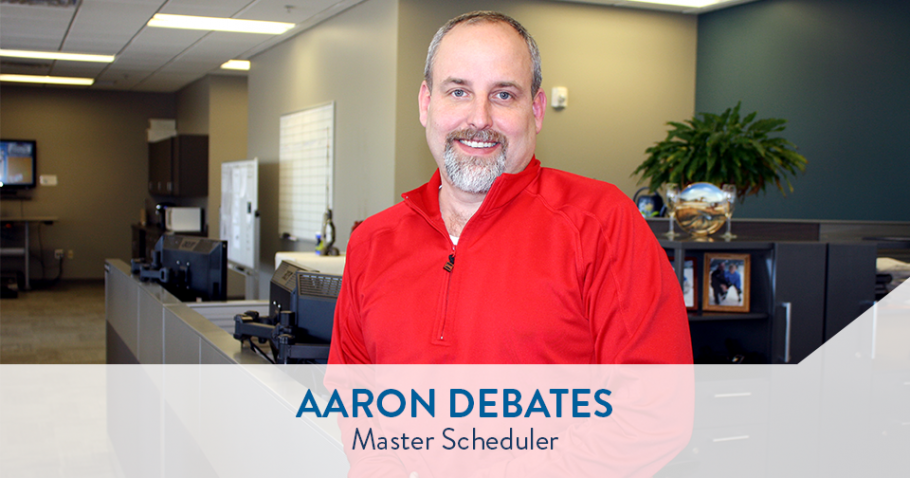 Awarded for Excellence in Peak Performance
When Aaron took on the Master Scheduler role in Raven Applied Technology, his coworker and nominator, Julie Larson, began noticing big changes. Aaron has good humor and exhibits the Raven Values every day. One of his running jokes is that he must consult with his direct team members to get consensus on things — except he has no direct reports. The truth is, Aaron's team is the entire division, and what he does affects all of us. Even better, Aaron is very diligent about consulting that team. It could be easy for him to keep his primary focus on items that affect production, since that is where his background lies. However, he has the best interest of the division in mind and stays focused on what is the best for all.
He has played a role in many recent improvements, including forecasting, sales and ops meetings, and continuous improvements on our Kanban system. One important project meant adjusting the Kanban to take in account the seasonality of our products. He is very good at managing his projects and is persistent about setting period goals to ensure he drives his projects to completion. 
Aaron is a hockey coach in his time off, and I would love to witness him in action because his coaching skills at work are excellent. He remains calm when team members get agitated about issues. He asks questions to seek understanding and offers solutions or explains what triggered the change. His calm demeanor and patience are an asset in an area where unexpected crises can occur often.

— Julie Larson, Training Manager