At Raven, a critical part of our commitment to quality is our dedication to continuously improving our services and processes. Raven Aerostar Flight Services Technician Eric Eigenberg improved the quality on multiple campaigns by recognizing and capitalizing on opportunities to improve, delivering high-quality results to both our customer and our flight operations team. Congratulations, Eric, on being named our November Team Member Spotlight winner!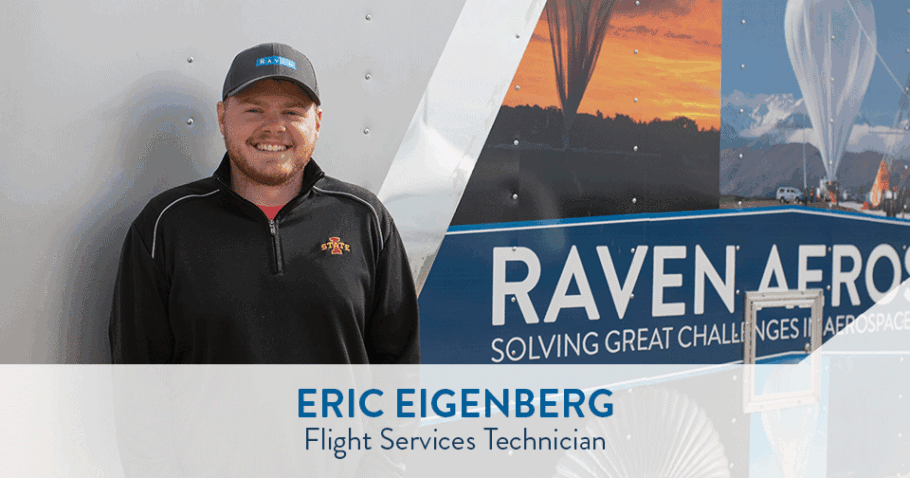 Awarded for Excellence in Quality
Eric demonstrated exceptional knowledge while piloting our stratospheric balloon systems. During a customer campaign, Eric believed that the Thunderhead 400 system could go below the known minimum altitude level that had been previously set. By collaborating with his peers, he went to these lower altitudes to find slower winds, as well as a better flight path that improved the customer's data.
In a separate capacity during this time, Eric also worked to expand our flight area.
This greatly improves future flights for Raven Aerostar, as we will not have to terminate flights [due to flight area restrictions]."

— Jason Knudsen, Flight Services Technician, Raven Aerostar
In both cases, Eric's exceptional professionalism and dedication to quality made significant improvements to the efforts of the Raven Aerostar team. Thank you, Eric, for your commitment to continuous improvement of our flight operation processes, helping the team solve great challenges!