When it comes to striving for your personal Peak Performance, it is very helpful to have a mentor to guide you along the way. Julie Larson, Training Manager for Raven Applied Technology, utilizes her time and gifts, providing advice and guidance to both to her colleagues and to students in our local schools. Congratulations, Julie, for being named October's Team Member Spotlight winner!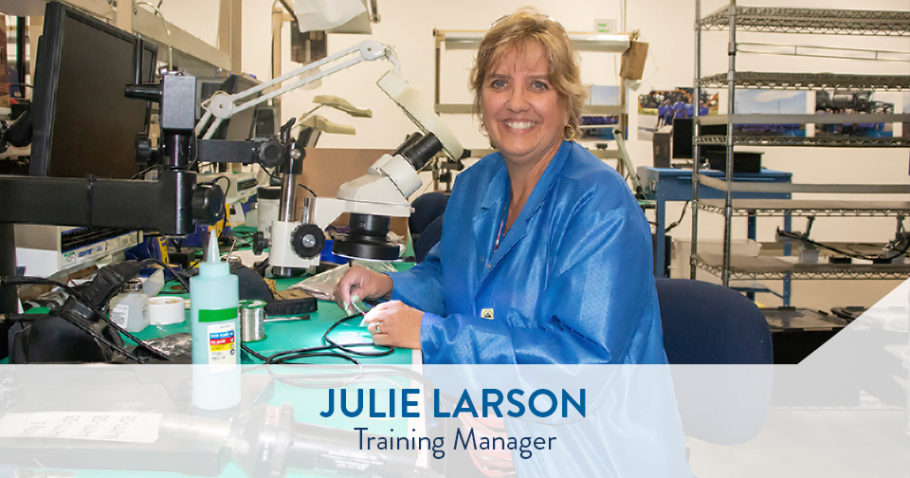 Awarded for Excellence in Peak Performance
In addition to mentoring young adults in local schools, Julie has been a mentor to many Raven team members in her tenure at Raven. She has natural abilities in the areas of teaching and developing those around her. Julie coaches anyone who seeks her out for advice, whether it is personal or work-related, even when she is going through adverse situations in her own life.
Her outlook on life is a positive one. She tries to make sure that when a team member or teen is thinking in a negative way or having difficulties, she will talk and listen to them, try to understand why they feel the way they do, and coach them on how to handle it differently the next time. I know from personal experience that she is kind and compassionate about the people in her life and work."

— Nichole DeVries, Trainer, Raven Applied Technology
She has really helped me grow in the last couple of years. I have greatly appreciated having Julie to confide in and get advice from."

— Dawn Dammer, Production Lead, Raven Applied Technology
As my mentor, Julie has helped me to better understand the value of leadership. In talking with Julie, I have a better understanding of how the Raven business operates. I would like to say thank you, Julie, for finding time to be my mentor."

— Emina Musinovic, Production Lead, Raven Applied Technology
Thank you, Julie, for being a dedicated mentor, inspiring others to find their personal Peak Performance!