Congratulations to Steve Veurink on winning our September 2021 Team Member Spotlight! Steve recently went above and beyond to provide valuable reports that aid in business decision making.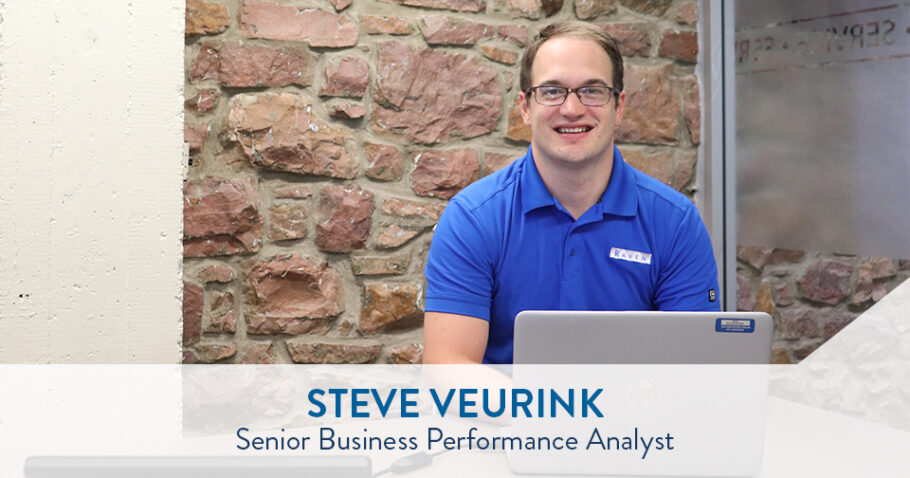 In his role, Steve provides and analyzes valuable information about the Raven Applied Technology business. Recently, he helped make large improvements to data reporting that continue to drive value in the areas of production operations and driverless ag technology sales. His clear metrics and dashboards provide helpful high-level views of projects, keeping key stakeholders regularly informed.
To coordinate and create the production dashboard, Steve was tasked with jumping into something completely unfamiliar to him. It was critical that the team had a better tool to summarize the status of our supply chain. When the dashboard launched and more questions arose, Steve worked with our production teams to dive deeper in those areas, adding more value. The production dashboard, which is now distributed and discussed on a weekly basis, is an exceptional tool that keeps everyone up to date.
Steve also created dashboards that provide key metrics for the sales team (including orders received and units shipped). These dashboards compare results to the sales plan to see how the team is performing. He dug a layer deeper on the OMNiDRIVE™ dashboard, helping triangulate the various plans for team member training, kit production, test site identification, and more.
It has been helpful to provide a summary view for the leadership team, helping them to get a better idea of how things are progressing. That is where Steve is helping."

— Bo Larsen, Director of Finance, Raven Applied Technology
Thank you, Steve, for continuing to provide valuable insights to our team!