Congratulations to Project Engineer Brent Driesen, our May Team Member Spotlight winner! Brent was nominated by senior leadership for his role in overcoming supply chain issues to ensure customers receive products this spring and for his dedication to solving great challenges.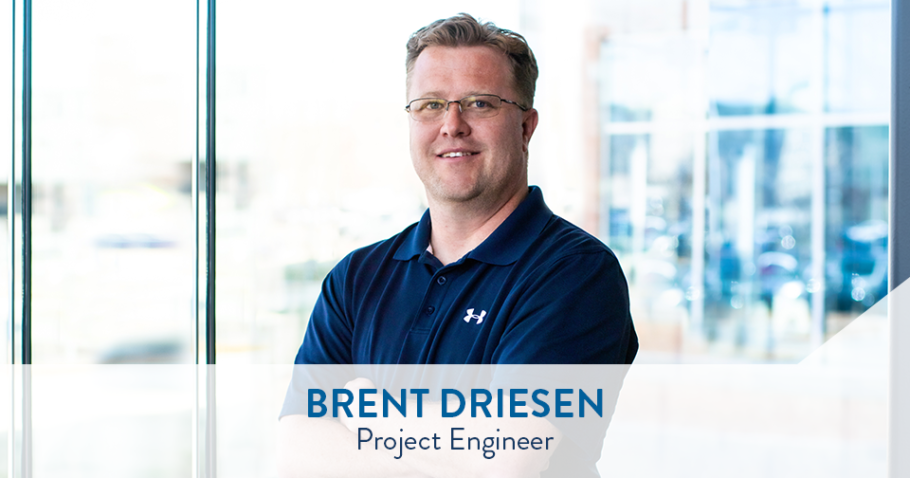 As a Project Engineer, Brent's daily roles vary anywhere from being in the office designing products to being out working on the items. He said that the variety keeps things interesting, and he enjoys the opportunity to work on different tasks and face challenges.
Supply chain constraints have been an ongoing concern for team members, so Raven leadership assembled an engineering supply chain constraints team. Brent joined the team to help find creative solutions that would enable us to deliver products to our customers.
Brent suggested working with a non-traditional parts supplier who claimed to have inventory of the needed parts. It was an unusual idea, as suppliers outside the typical channels aren't considered an option due to the uncertainty these suppliers could meet our quality expectations, Director of Engineering Jeff Van Roekel said. He stated that Brent doesn't take no for an answer and explained why the potential upside of delivering product to customers was worth evaluating the effort required to procure and evaluate these suppliers.
"It's people like Brent who are a living example of a culture that doesn't take no for answer. In the business climate we're working in, people's resolve really does make an impact, and Brent's inspires those around him."

— Jeff Van Roekel, Director of Engineering
Brent said that supply chain issues have happened before in his 19 years at Raven, though they've never been to this scale. He said that because he wants to see Raven succeed, he doesn't accept that a problem has no solution and works to overcome issues.
"The effort of exploring options that most people wouldn't consider is a testament to pursuing any option that helps us get our products to our customers," Director of Engineering Jeff Van Roekel said. "Brent knows the role our products play in our customers' livelihood and has seen how enabling them builds trust and repeat customers."
"Brent has been absolutely instrumental in helping us get parts from alternate sources during an extremely critical time for our customers to get product. We will be able to ship several key products to our customers this spring due to his help."

— Sarah Waltner, Senior Director of Global Sales
Brent started at Raven in production and has worked through different roles in the organization over the years, which he said has given him a unique perspective that helps him appreciate all the things happening in the company. He can't ignore an issue like the line being down or someone being unable to fix something because he wants to help find solutions for every team member.
Brent has a passion for every department and wants to see everyone succeed, no matter the issue they face, which is why he keeps an open mind when confronted with challenges.
"In the midst of several challenges, Brent has been incredibly willing to help when needed. He never complained and was willing to help wherever asked. I am so very thankful for Brent and his assistance and great attitude," Senior Director of Global Sales Sarah Waltner said.
Thank you, Brent, for showing up every day with the mindset that there is always a solution, no matter how great the challenge.